Canadian Freebie: Free Durahook Coat Hook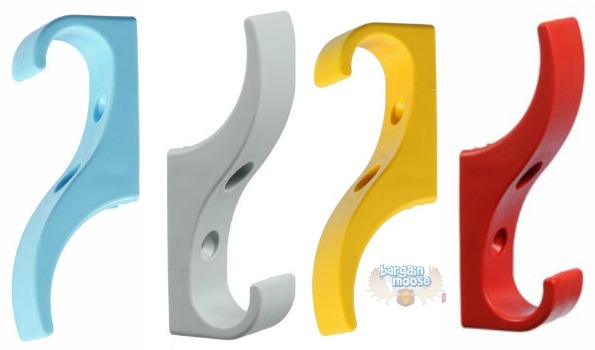 Here is a great little freebie to grab. Durahook is offering a free coat hook sample now. You can pick your colour and ship your free hook to your house for no cost, including free shipping.
This is a nice offer from Durahook Coat Hook. Simply give them your address and they will ship you a free coat hook that attached to the wall. You are limited to only one freebie per household. This free metal coat hook is available in a wide range of colours including:
White
Red
Black
Blue
Claret
Baby Blue
Yellow
Spearmint
Green
Ocean Blue
These hooks attach to the wall using screws, so you may want to get out your drill. They are made of strong metal designed to be hold the weight of a book bag. I have broken more than one hook with the weight of my heavy purse so maybe this hook would be the perfect place to stash my bag. These durable hooks are originally designed for schools and nurseries. With the wide range of colours, they would be perfect for a kid's room.
The curved design of these hooks minimizes coat hook injuries according to Durahook. I was not aware there were many coat hook injuries per year but I could use this as a hook for my kid's coat and be on the safer side. My daughter is more likely to jab herself in the eye with a coat hook than I! My daughter is always bouncing around.  I am happy to test this hook myself when the free sample shows up at my house.
One of the best parts about this deal is that even though there is a billing address and a shipping address, there is no credit card information needed to score this deal. Simply pick your colour, add your contact information and you are set to receive your free hook. I received an e-mail confirmation almost immediately in my e-mail. This freebie is not limited to Canada, so pass it along to your friends and family in the USA, UK or Australia who also qualify to receive a free coat hook sample. This company is in the UK which is why you see prices listed in pounds. I suspect shipping may take a little longer, but that is OK by me because it is free.
Bargainmoosers, where will you hang your free coat hook?
(Expiry: Unknown)