Canadian Freebie: 3M VHB Tape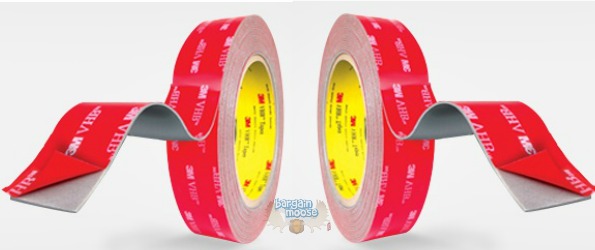 Right now, 3M is giving away a free sample of the 3M VHB Tape. This tape is tough and designed to replace screws and hold up to weather conditions. Snag your free sample with 3M before they are gone!
When you fill out the form, this sample asks for your contact information along with your company name. 3M does state that they intend to fulfil this sample for commercial samples. I always write that I am an independent contractor, which I am on the side. After you submit your information, the website does mention on the page after you submit that a 3M representative will be contacting you within seven business days. I suspect you will receive either an e-mail or a brochure in the mail. I did not receive a confirmation e-mail immediately such as may happen with some other sample requests. I expect the sample will take a few weeks to arrive, though 3M does not state explicitly how long it will take.
Several years back I worked with a company that regularly created exhibitions for the public. Our shows had to be clean, concise and hold up to lots of people touching and pulling on items that they should be only reading. I was regularly mounting text panels, figuring out how to make pieces more durable and working with the amazing people in our shop to finish projects. A 3M double-sided industrial tape was regularly in our toolbox. I went through huge reams of double-sided tape for every installation and always had success.
I do not doubt that the 3M VHB tape will hold up to almost any project you give it. This tape is for heavy duty construction projects. You can attach this double-sided tape to metal, glass, plastic and a large variety of other surfaces. Use this tape as a replacement for screws and bolts, no holes or drills needed.
This product will also stand up to various weather elements such as rain, wind and extreme heat and cold. I can see using this sample for several outdoor projects I have in mind, and I bet it will hold together nicely. There is a video testimonial on the 3M website in which a company that works mainly with aluminium praises the tape for also bonding quickly to surfaces without drying time. Most other products that bond as strong as bolts and nails have a long drying time and lots of chemical fumes. I am looking forward to trying out my free sample when it arrives.
Bargainmoosers, what would you hold together with this tape?
(Expiry: Unknown)