Walmart: Star Wars 31" Figures Were $40 | Now $15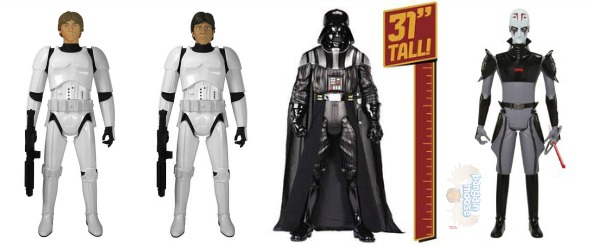 Walmart Canada has a fantastic deal on these huge 31" Star Wars figures! Originally $39.96, each figure is on sale for just $15 with free shipping for Boxing Week.
You can choose from three different figures (as the Storm Trooper is already sold out):
Hans Solo and Luke Skywalker are your traditional heroes just trying to rescue one tough maiden in distress. While the faces are not 'perfect replicas', they are close enough to be recognizable as each of the characters they represent. Each of them comes in the white Storm Trooper-esque outfit with a weapon.
Now, the Inquisitor Figure through me for a loop. Sure, I have only seen the movies once and that was ages ago but I have a VERY good memory. The second I saw the figure I knew it was not from the original movies. Instead, it is a character from the new Disney XD television show, Star Wars Rebels.
All 31" Star Wars figures have seven points of articulation so they are fantastic for playing - they are not just for displaying! The price is awesome for these action figures. While I could not find them elsewhere in Canada, the figures are on sale for $28.99 US @ Toys R US.com, $19.88 US @ Walmart.com (sold out), and I found them at toy collectible shops like the Big Bad Toy Store for $49.99 US.
Not included in the sale is Mr. Darth Vader himself, all 31" of Dark Lord. However, it is hard to play Star wars without a villain so you may want to pick him up anyway. He is on rollback so that helps; originally $39.96 he is now on sale for $30. I also assume he is going to be the most collectible piece of all the 31" figures.
These are really awesome toys or collectibles and quite large. I can hardly believe they are 31" tall - that is around two and a half feet! Receive free shipping on any order at Walmart Canada.
(Expiry: Unknown)