Walmart Canada: Tonka Trucks Were $40 | Now $20 & Free Shipping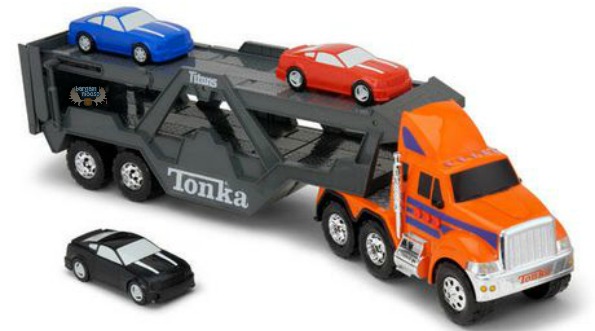 Tonka trucks really bring me back to my youth. My brother had one that I loved to use to ride my barbies in. Barbie didn't want the dream convertible, she wanted the 4x4! Walmart has a great deal on right now, with three Tonka Titans on sale for $20, with a regular price of $40. Of course, you'll also get free shipping.
Christmas has been over for a month and a half so my ban on new toys in the house might have to be lifted for this sale. All of my boys love trucks and cars, and they'd love to get these as gifts, just because. I also think these would be great to buy and store as gifts for birthday parties that my kids will inevitably be invited to in the near future.
There are three styles of truck available. The first is the titans car carrier. Like it says, it carries cars. I know my boys are fascinated by the car haulers we see on the road, like how is it possible to tow all of those cars on one truck? I used to work at a car dealership so I'm not as fascinated since one of those car carriers hit my parked car. But, its all about the fun for the kids.
The second one is the garbage truck, which is another type of truck that my kids are fascinated with. Every time that truck makes its way down my street, my kids stare in awe as it "eats" the garbage. It even has a very good review:
My son ordered this truck for himself with his christmas money. He absolutely loves it and was so happy yo add it yo his garbage truck collection.
The third is the most fascinating type of truck - the fire truck. My kids actually have this fire truck and it gets played with often. We have a few firetrucks, and I find it much more durable than the Playmobil one that I paid about $50 for! It also has fantastic reviews:
My toddler loves this toy. He plays with it all the time. Happy to have it.
Like most of the best deals at Walmart, this is bound to sell out as fast as I have written this post, so don't wait and ask your kid when he/she gets home if they'd like a new truck.
(Expiry: Unknown)