Walmart Canada: Rubbermaid 50 pc Set only $14.88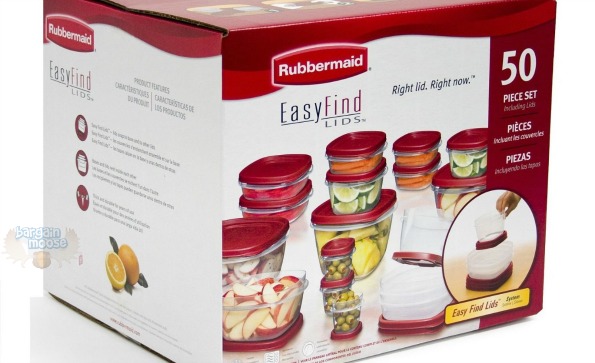 BUMP - this was really popular, but went out of stock before. Now it's back! Get it fast!

Walmart Canada has a fantastic deal on a Rubbermaid 50 piece set with easy find lids for all your storage needs. Pay only $14.88 with free shipping.
Price comparing is super hard because Walmart fails to list the original price of this item. However, I found an old cache for Walmart Canada that had the price at $37.98 and that seems pretty reasonable given that Amazon.com has the original price as $37.99. Finding this particular set in Canada is extremely hard except from Walmart Canada. Ignore the dolt selling it for $92 through the Amazon Marketplace. The 24-piece set at Walmart Canada costs $19.97 so you know this is a good deal!
The set includes containers of the following sizes:
0.5 cups (118 mL)
1.25 cups (296 mL)
2 cups (473 mL)
3 cups (710 mL)
5 cups (1.2 Liter)
7 cups (1.7 Liter)
9 cups (2.1 Liter)
There are generally more of the smaller sizes and less of the larger sizes. The lids snap to each base and other lids nest inside each other making this an easy to find lid system. The lids are red and the bases are clear. On other websites, this set has got great reviews including this one:
So many lids! The set is great for those who like to prepare meals ahead of time. It helps to organize a weeks worth of food for my apartment. We're both graduate students and have limited time to prepare food. So we use these and Sundays to ensure we eat healthy throughout the week.
I had better hide this deal from my husband or he will be ordering it before I can hide his credit card. My husband loves containers and filling containers with things. What he does is forget things (like food) are in containers and then never eats them leaving foot to eventual spoil. Alternatively, I become tasked with surveying the fridge every few days to find what he has stuck and subsequently forgot in containers and first reminding him and then subsequently freezing the food before it goes bad. With a 50-piece set, I can only imagine the stacks of food in the fridge!
Pick this set up before they sell out!
(Expiry: Unknown)