Walmart Canada: HomeTrends Pergola Only $200 & Free Shipping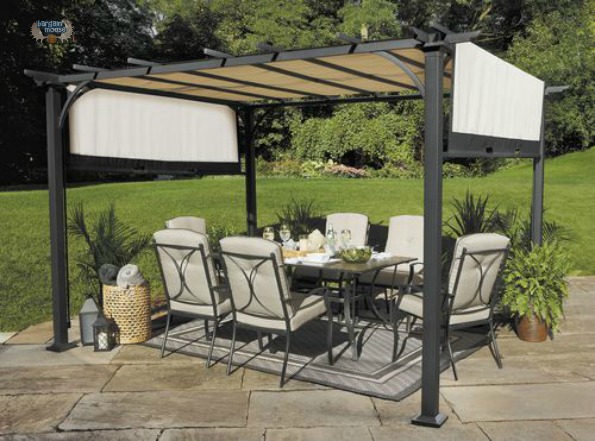 With the cooler weather ushering itself in, summer items are going on clearance. This means it is a fantastic time for you to pick yourself up pretty much anything you'd need for a hot, sunny day at a discount. I found this HomeTrends Summerhouse pergola at Walmart for only $200, with a regular price of $396. That's almost $200 off the regular price. Even better, this fairly large and heavy item will still ship to you for free.
I spent quite a bit of time in my backyard this summer, as probably did most of you. The sun hits my backyard around noon until it goes down. I bought an umbrella for coverage for the sun, but it just hits in the wrong spot that my umbrella does absolutely nothing. A pergola would be so much better as it gives coverage from the top and sides.
This Hometrends pergola looks very stylish and durable at the same time. It has a black steel frame with beige and white fabric. The fabric covers the top and the sides and the side fabric is adjustable, which I love, because you can decide if you want the sun on you or if you want to block it out. This also allows for added privacy, like when you have people over and your nosy neighbour likes to sit on his deck and see what you are doing. I've had a few of those!
When I tried to price compare, I could find nothing with this low of a price in pergolas, whether steel or wood. The closest I came was a steel pergola without privacy shades for over $400. I'm thinking the regular price was the lowest price around already, and the clearance price makes it quite the steal.
My first thought when something is so low-priced is wondering if I'm buying junk. Well, that's where the review section comes in handy. Reviews are mixed but there is an overall customer rating of 3.8 stars, so I think this is a worthy enough item. The general consensus is that it is durable, but difficult to put together and the bars holding the canvas won't survive a storm.
We love this Pergola now that is finally erected. The only problem we had was the poor instructions that came with the unit. We had to take a portion of it apart and start over, but after figuring it out ourselves we were able to complete the project.
(Expiry: unknown)