WalMart Canada: Batman Cowl And Batarang Role Play Pack | Was $12 Now $5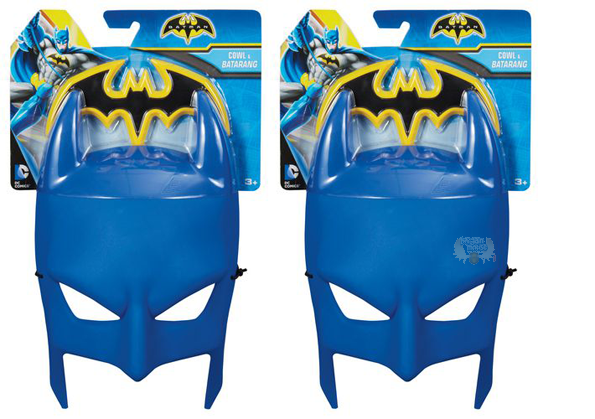 It looks like WalMart just put another Batman item on clearance, so you'll have to act fast before it's gone! Today, you can get a Batman Cowl And Batarang Role Play Pack for just $5 (regular price is $11.98). Plus, you'll get free shipping! If you know any Batman fans, then this would be a fun gift to surprise them with - no matter what their age is!
Like the title implies, this Batman Cowl And Batarang Role Play Pack comes with a classic blue Batman mask and his trusty Batarang. You can't go wrong for $5!
This set reflects the original, classic DC Comics Batman look. Kids will get a kick out of this set, especially when they're playing in their backyard with their friends! For those that are older, this would also be a hilarious gag gift. Plus, you'll be hard pressed to find someone that doesn't like Batman!
As I mentioned in yesterday's article, I was a Batman fan as a kid. Maybe because the Batman Returns toys that were out at the time were pretty cool, but I always had an affinity for the Caped Crusader when I was a child. This Batman Cowl And Catarang Role Play Pack looks like something that I would have definitely wanted as a child!
If you wanted to buy this set, it would be tough to find in Canada (unless you were shopping for it at WalMart). It's currently $9.99 US on Toys R Us' American website and Amazon's American website. I've included a brief review of the Batman Cowl And Batarang Role Play Pack from a satisfied Toys R Us customer below:
The way my son uses this product is to play super hero and it so comfy on his head it Doesn't hurt him.this is a really great product couldn't me more happy.
Since this item's on clearance, if you want it, you should get it as soon as possible! Happy hunting, Bargainmoosers!
(Expiry: Unknown)