Walmart Canada: Barbie Dolls Only $5 & Free Shipping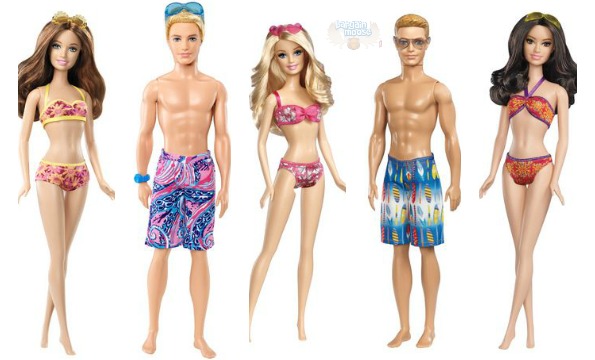 I was quite delighted to find this deal on Barbie Dolls from Walmart Canada. Originally $8.97, purchase the Barbie beach doll in a variety of styles (including two Ken dolls) for only $5 each with free shipping.
You can find the dolls in the clearance section, but I have also linked to each individual doll below. There are five Barbie dolls to choose from and you could buy all four for just $25 if you wanted. Here are the currently in stock Barbie Beach Dolls for just $5 each:
The first four are from the same serious, but the last Ken doll looks like it may be from a different series. Either way, all five Barbie dolls are just $5 each. I price compared with Toys R Us. They have the entire Beach Doll line priced at $9.99 each so you are saving 50% at Walmart Canada. Toys R Us also has a minimum for free shipping, which Walmart does not currently require. If you look on Amazon.ca, secondary marketplace sellers are selling these Barbies for a lot more. The cheapest Beach Barbie I could find on Amazon was $14.99.
While the reviews are sparse, the ones available are quite positive.
Bought this doll for my DD and she is very happy with it. She is building her Barbie & Friends collection
and...
Great price! Five dollars for a beach Barbie WOOHOO
I agree, $5 for a Barbie doll is a fantastic price. I also like that there is such great variety still available with three females and two males. My favourite doll is Raquette because I really like her hair. However, I like Barbie's outfit more. That is the beauty of buying Barbie Dolls; you can just buy them both and switch out the outfits.
(Expiry: unknown)