Walmart Canada - Animal Crossing: New Leaf For Nintendo 3DS Now $19.94 (Expired)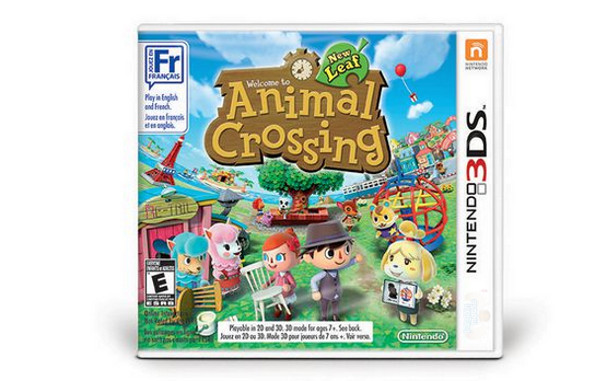 It's a great week to be a gamer! It's surprising whenever you encounter a deal for a first party Nintendo game, and WalMart is here to provide 3DS fans with a wonderful buy. This week, you can get Animal Crossing: New Leaf for the Nintendo 3DS system for $19.94. This title normally retails for $34.99, so you'll be saving $15.05! It's especially popular with children, and has developed quite a following since it first appeared on the gone (but not forgotten) Nintendo Gamecube (it technically appeared on the Nintendo 64DD in Japan first, but we Canadians didn't know about the game until its inaugural appearance on the Gamecube).
A nice perk to this deal is that WalMart.ca now offers free standard shipping. The Animal Crossing series is one of Nintendo's newer franchises that has really developed quite a following. I first played this game on the Gamecube many moons ago, and while I haven't tried out this 3DS iteration of the game, I did find it very cute and amusing. What was great about the original GameCube version was that on top of the freedom to explore your surroundings that you were able to experience in the game, you were also able to unlock classic Nintendo games, which really pleased me as a player. Though you won't be able to unlock any classic Nintendo games in Animal Crossing: New Leaf, you do get to enjoy this new chapter in the Animal Crossing series in 3D, and you'll be able to fish, explore, and interact with others.
Critics and players seem pleased with this game as well. I've included a snippet of a review from the Best Buy website below:
This game has a great replay value. It doesn't take a huge chunk of your time, but it gets you going back each day. Something about the tasks and the real time events happening and progression keeps the game fresh, as opposed to repetitive, which was something I was afraid would happen with animal crossing. The graphics are cute and quirky, and for a nintendo ds it's pretty good graphics wise.
When checking out other retailers, such as EBGames and Best Buy, the game retails for $34.99. If you're a Nintendo collector, a fan of the Animal Crossing series, or a friend of someone who is, I recommend that you nab this deal before it's too late - Super Mario 3D Land for the 3DS was also on sale at WalMart today, but there is no longer any online stock available. Take advantage of these great savings, and have fun diving into the vast virtual world of Animal Crossing: New Leaf!
(Expiry Date: September 5th)