Walmart Canada: 50% Off Hot Wheels Wall Tracks Speedway Set - Was $30 | On Clearance $15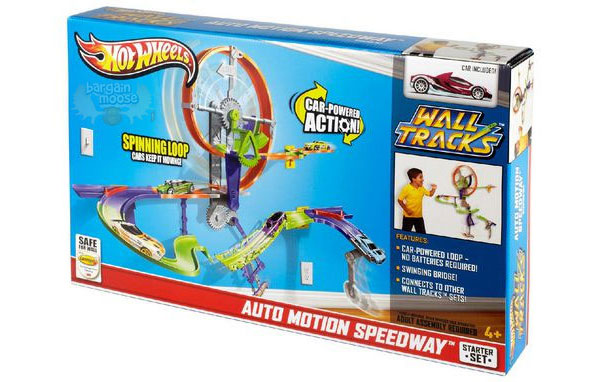 Got space on the walls of your kids' rooms? Then fill it up with an interactive toy instead of bookshelves and other Pinterest-inspired decorations! The Hot Wheels wall tracks auto-motion speedway track set is on clearance for just $15 at Walmart right now, down from a $30 price tag.
This Hot Wheels set is beyond cool. Instead of cluttering the floor, you need to secure it to the wall with Command strips for 3M.
I love that this track set doesn't screw into the wall - can you image the horror of having to fill up the million little holes after and re-painting everything?
Although sold separately, you can also expand this set by purchasing other track sets that can also be secured to the wall.
According to the description, it's best suited for kids ages 5 to 8 but judging by this review that I found on Amazon, it can also be used by younger kids:
This thing is so much fun. Our 3 and 4 year old love it and so do we!!! This thing was super easy to set up and NO BATTERIES hooray!! Not all cars work on the tracks, but your kids will figure out which cars work best pretty fast. It seemed a bit flimsy when we put it up, but so far the kids have done their best to break it and it is still holding strong.
My first thought at seeing this set was that it would for sure be flimsy, so it's reassuring to read that it isn't no matter how much abuse kids put it through. Here's another review:
At least 20 pieces not counting wall attachments. Features a circle wheel for the cars to taverse then an attempt at a swinging-type bridge. The bottom hanging portions are for counter balance.

It is indeed an experience, a project. You have to remember to give the wheel a spin so the whole contraption will operate. Colorful. Came with Covelight Hot Wheel.
Considering it was originally $30, I'm also surprised at the amount of pieces it comes with. The wheel certainly looks like a lot of fun!
Since Walmart always ships every order for free, so you won't have to worry about additional costs... except for taxes of course. :P
(Expiry: Unknown)