Teavana: 75% Off Tropical Nut Paradise Rooibos Tea (+ Free Shipping!)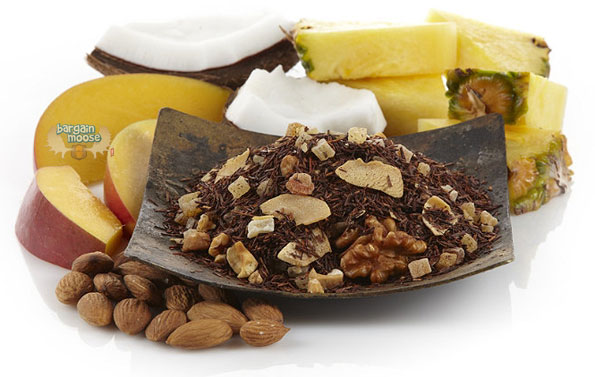 Love tea? Then score the Tropical Nut Paradise rooibos tea for 75% off while you still can. Two ounces are now on sale for just $1.95 instead of $7.80. Even better is that you can use the Teavana coupon code: ICEDTEA for a limited time to get absolutely free shipping on any order with no required minimum.
I'm a huge tea lover and I'm actually super excited to try this tea over ice as its primary notes are pineapple, mango, papaya, walnut and hazelnut. Those ingredients scream summer to me and you certainly can't go wrong with comments such as this one:
I tried this tea out because it was on sale and I was absolutely floored!! This quickly became one of my favourite teas to drink, its so spicy and smooth and its definitely not like any other tea I've had… and I've had LOTS of tea.
Most of the reviews have also focused on the intensely pleasant scent of this tea, which can be discerned as soon as the container is opened.
Usually, Teavana's minimum for free shipping is $50, so the fact that you can use the coupon code above to get free shipping regardless of the order total is definitely pretty awesome. In fact, you could even take advantage of this offer to get a grace tea tin, which is 50% off right now at just $5.48. Although the the design of the tin that you get is chosen at random, all of the designs are equally as beautiful regardless. Plus, all of the tins can hold 8oz of tea (225g).
Each order also qualifies for a free sample of the blueberry kona pop tea blend, which is a rooibos tea that primarily features blueberries along with pineapple and hibiscus notes. Since it's also caffeeine-free, you won't have to worry about drinking it in the evenings!