Teavana: 75% Off Spiced Apple Cider Rooibos Tea + No Minimum Free Shipping This Weekend Only (EXPIRED)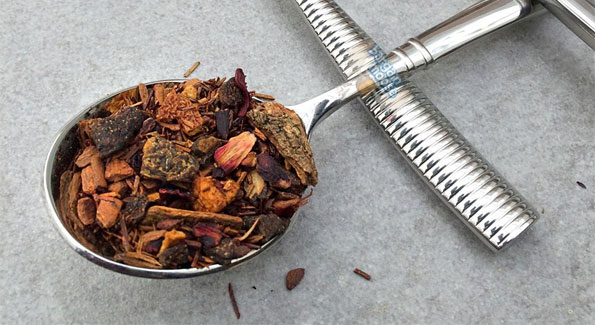 Bleeeh, this winter has been a particularly cold one for Canada, hasn't it? Heck, even Montreal is on the verge of breaking a record for having the coldest weather! Warm up with a cup of spiced apple cider rooibos tea from Teavana without having to step a foot outside. It's now a whopping 75% off and you can get it shipped absolutely free this weekend only with the coupon code: SHIPSPRING.
Here are the sale prices for the spiced apple cider rooibos tea depending on the amount you get:
2 oz: $2.25
4 oz: $4.49
8 oz: $8.98
16 oz: $17.96
After setting out to write about this deal, I became skeptical as to whether or not the free shipping offer would truly apply to Canada because the promotional banner on Teavana's homepage specifies that it's for "U.S. orders only". However, I plugged in my address at checkout and am happy to report that it does indeed apply! In fact, once you input the code and enter your information, the "shipping method" drop-down menu at checkout will switch to: "Canada - Free!"
Just to be extra sure, I fished out my credit card from my wallet and was still offered free shipping on my order, even until the very last step of checkout.
Here's a screenshot of my cart after I entered the Teavana coupon code mentioned above: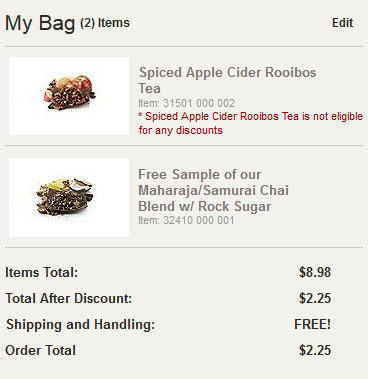 As you can see, any order also comes with a free sample of the Maharaja/ Samurai chai tea blend with rock sugar.
With regards to the spiced apple cider rooibos tea, it actually has nearly 70 reviews with a total likeability score of 3.8/5 stars. Here's what one tea drinker had to say about it:
I absolutely love this tea! I received a 5-oz tin of this tea as a gift from a friend and now I am all in. Like all food and drinks we consume, personal preference plays an important role in which products we gravitate towards and for me, the gravitational pull is strong with this tea. The combination of spices work so well together and this tea has never turned out bitter for me (I just followed the directions).
The fact that this reviewer points out that this tea has never been bitter is a good point to note because a couple of other reviewers gave this tea a lower score because of the bitter aftertaste. In my own experience, I have found rooibos tea to be slightly bitter but perhaps as the reviewer above pointed out, it all depends in how you prepare it.
No worries if you don't like rooibos or spicy tea in general. There are plenty more tea to choose from, even other ones on sale, including a couple of teapots, tea tins, carafes etc. Usually, shipping is only free on orders over $50, so the free shipping code mentioned above is a great way to try something new.
(Expiry: 1st March 2015)