(Save 78%) Agiato Apparel: 3 in 1 Maxi Dress Only $16 & Free Canadian Shipping! (EXPIRED)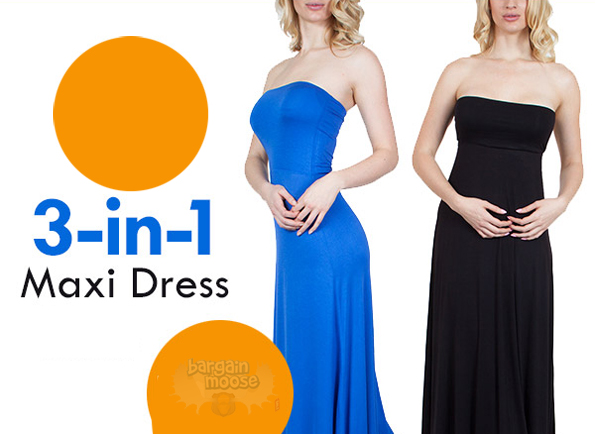 We recently discovered Agiato Apparel, the US based sister site to Canada Dawgs which we've mentioned in the past. One reason that the Agiato Apparel store popped on to my radar was the fact that they offer totally free shipping to the whole of US and Canada! And this weekend, they've got a super-sweet deal on a pretty maxi dress – it's down to only $12.99Us, which is approximately $16CA.
The three in one maxi dress was originally priced at $74 (CA$), but it's now down in price to $16.
Colour Choices
You can choose from black, navy, grey, blue and charcoal. This kind of dress is an ideal wardrobe staple, so it could be an idea to buy it in a few colours. While it's quite a plain dress on its own, it could really stand out by being accessorised with a funky scarf, purse or hat… etc. I'm not a fashion queen, but you get my drift. :)
Sizing
You can choose from extra-small right up to double extra-large on this dress. On the Agiato Apparel site, there's also a handy chart when you click the "specifications" tab, with the actual measurements on this dress – you can have a check of that before you buy.
10% Signup Code
When you click through to Agiato Apparel, there's a banner at the top of the page advertising an extra 10% discount when you join their email club. Being the savvy deal hunter that I am, I obviously tested this out to see if it dropped the maxi-dress to a lower price. The email signup gave me the generic coupon code AGCLUB10 – but sadly, it doesn't stack on top of the maxi dress offer. The email stated that there are a few exclusions, so this dress is obviously one of those.
Price Comparison
Maxi dresses are ten a penny – they are sold at so many stores, it's pretty difficult to price compare such a generic item. But to give you a rough idea of prices elsewhere, most sale dresses at The Bay are $29.99, you're looking at a minimum of $20 plus shipping from Bootlegger, $20+ @ Urban Planet, $40+ @ Jean Machine. There are dresses around the same price online at Old Navy, but you don't get free shipping there unless you spend $50+, and the sizing and availability is also a little spotty. It's a similar story from Forever21; there are a few in that price range, but you'd have to spend more to get free shipping too. It's the free shipping deal from Agiato Apparel which really makes this deal.
Shipping, Customs, Duties – Keep Orders Small
Agiato Apparel ship to Canada from the US, but it's totally free. But because they're shipping from across the border, you'll have to keep in mind that there might be certain unexpected fees. As most of us know, any order under $20 won't have any issues, so ordering the above maxi-dress alone won't have any extra associated costs. If you place a larger order though, you may end up paying extra customs and duties. What I'd whole-heartedly recommend – as it's free shipping on ANY order, make sure you place smaller separate orders, to minimise any chances of being hit by customs!
(Expires: 28th June 2015)