Apple MFI Certified Lightning Cable Only $7.99 & Free Shipping @ Prime Cables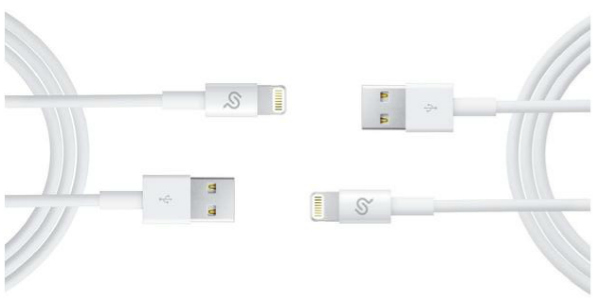 I am not sure how many iPhone cords I have broken through over the span of my cell phone's life, but it has been quite a few. At $24.99 a pop from Apple, it isn't a cheap replacement either. Right now, Prime Cables has discounted their 1M Apple MFI Certified Lightning Cable - iPhone & iPad Charger (3.28Ft) from $11.99 down to $7.99. On top of that, you can use coupon code FreeShip2 to receive free shipping on your new iPhone, iPod, and iPad cord.
This cord is made for the iPhone, iPad, and iPod that use the lightning connector. These are Apple MFi licensed, which means that this third-party hardware accessory uses Apple's MFi licensed technology to connect electronically to iPhone, iPad, iPod. This cord is designed and approved by Apple so it will work seamlessly with your electronics. It is compatible with any Apple device that uses the lightning connector including the iPhone 5, iPhone 5c, iPhone 5s, iPhone 6, and the iPhone 6 Plus. Plus, it is compatible with these iPad and iPod models:
iPad with Retina display
iPad mini
iPad mini 2
iPad Air
iPad Air 2
iPad mini 3
iPod touch 5th Generation
The beauty of the MFI Certified cable is it will both charge your device and allow you to Hotsync with your computer - you can transfer over music, videos, and new apps with no problem. This is just the cable, so you can connect the USB end to a USB hub or your computer's USB port to charge your phone.
I can confirm that these cables work seamlessly with all technology I have tried. I have Anker external batteries, Anker USB Hubs, an Alienware computer, and authentic Apple USB to wall chargers as well. This cable just works like it is supposed to. I end up replacing my cables about every year as I am very hard on them. While I like buying Apple, their cords are rather flimsy for $24.99. This cord for $7.99 fits within my budget and I could practically get three for the price of one apple cable. As they are certified, I know there will be no problems with compatibility.
The coupon code for free shipping ONLY works on these cables, if you add anything else to your cart then the free shipping will not be applied.
(Expiry: Unknown)