Phone Gala: PowerCube Original 5-Outlet Power Bar Only $15 & Exclusive Free Shipping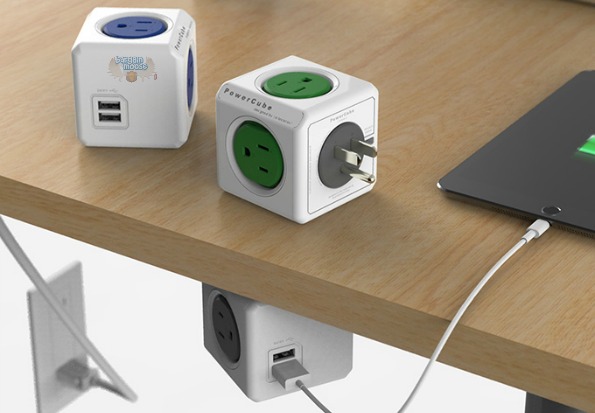 I recently tried out a pretty cool product and I want to let you know about it. Its called the PowerCube and it is basically a power bar, without the bar. It is in a little cube format, with no long wires to get in your way and no bar to step on. You just plug it in then plug in what you need to. Phone Gala has it on right now for $14.99, but we've also got exclusive free shipping on this item with coupon code MOOSECUBE.
You don't have to believe me about the convenience of this product, but you can believe reddot, who gave it a best product award.
What I really love about this cube is that it is space efficient. Typically under my desk I have a power bar with my laptop, monitor, external speakers and sometimes my phone charger plugged in. I step on it often and am always kicking it out of my way. With the PowerCube, I don't even see any of those wires, as they just plug right into the wall with this cube.
It also has USB plug-ins, which means you can charge your phone or camera without needing the extra wall jack. I find I always have lots of USB cords, but never a wall jack and I don't find plugging these items into my computer as efficient for charging.
I want to set up a charging station in my kitchen for all of my family's many electronic devices and this cube makes it so simple.
While Best Buy has the same price on this item, their free shipping doesn't start until you reach $25. Otherwise you are paying $8.99. Other stores like Canada Computers and Amazon also carry the cube with ranges from $20 - $40 for this cube!
With the free shipping exclusive coupon code you are saving the $4.95 shipping fee Phone Gala normally charges. We have a few exclusive coupons for Phone Gala, but you can only use one coupon at a time. If you are planning on getting a few things and your total is going to be over $100, you might want to go with the 5% off coupon instead.
(Expiry: Unknown)