Organize Your Garage & More For $144.99 W/Free Ship (+ Bonus $71.99 Value) @ Costco.ca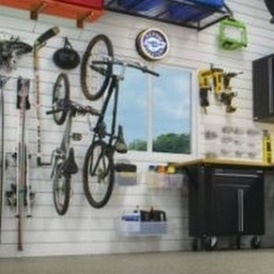 Have you ever wondered what it would be like to have a neat and orderly garage? I know I always feel overwhelmed with the 'stuff' we have in our garage, and if you are feeling the same way, here's the best solution to keep everything in check.
Costco has a limited time offer on a unique organization system for your garage. It's a system of 8-ft. wall panels that are selling for $144.99 and free shipping is included. The 10 year warranty speaks volumes about the product.
Along with this kit you receive a $71.99 value Proslat hook kit. The paneling covers 32 sq. ft. ( in either an 8 ft. x 4 ft. or 16 ft. x 2 ft configuration.)
Why do you want this specific system?
A Proslat wall solution begins with Proslat's patented PVC wall panels. Made in Canada from 90% recycled materials, makes this one of the greenest storage solution on the market. The Proslat is also one of the most versatile, as individual panels may be installed as a track, in a section or over an entire wall. Installation is simple and the unique hidden screw design gives a professional finish. Built to last, Proslat wall panels are up to 25 times more impact resistant than drywall and they hold up to 34 kg (75 lb.) per linear foot. Panels are not affected by mold, mildew or water so they can be used in damp locations where drywall and wood might absorb the humidity.
Now that I've read all of that good stuff about it, I'm starting to think of the possibilities of installing a system like this in a craft room or a gaming room for the kids to neatly hold their gaming accessories, (or who knows what else... what would you use it for?) I sound like an neat freak, but actually I am just a neat freak wanna-be.

Shipping is free!
(Deal expiry: Aug. 21, 2016)