Official Frozen Tablet Case as Low as $27 @ Vanilla Underground | Free Shipping!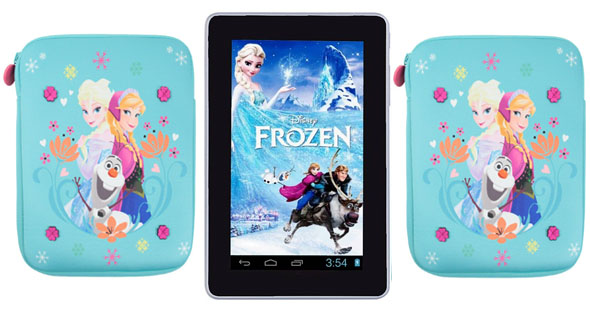 If your resident Elsa and Anna fan-girl received an iPad or similar tablet over the holidays, you need to check out this case at Vanilla Underground. If you've not heard of Vanilla Underground, it's a UK-based site specializing in all things pop culture - and they ship to Canada completely free of charge! Just be sure to set your currency to CAD in the upper right corner once you arrive and you're all set!
This little beauty is on par with most quality cases at $30.13. But if you sign up as a new subscriber to Vanilla Underground's newsletter, you will receive a discount code for 10% off your first purchase! Enter the code at checkout and pay just $27.12 and no tax!
As far as tablet cases go, this is gorgeous! The graphics and colours are so vibrant; it's irresistible. I think the moniker 'case' is a tiny bit misleading, though; it's more of a sleeve. I think of harder plastic when I think of a case and this is soft and zips only across the top so the tablet will have to be removed to use it. But that's splitting hairs. The case is a pretty light blue and features fan-favourites Anna, Elsa and Olaf on its front. Also part of the graphic are falling flowers, hearts, snowflakes (of course) and four of the bright pink flowers are actually embroidered. The top zip features a large rubber pull, making it easy for little hands to get into.
Unfortunately, I was unable to find the actual measurements of the case in order to ensure that you're buying something that will fit your particular device! But I've sent a quick note to Vanilla Underground's customer service requesting the information and will let you Moosers know as soon as I hear back. For what it's worth, they say that it's "suitable for the iPad and other tablet variations" but don't say which iPad. I would guess it fits any 10" or under tablet but I'd like to be sure.
*Edit: the lovely folks at Vanilla Underground have informed me that the case measures 8" (w) x 10" (l) x 1" (d). Be sure to measure your particular device to ensure a good fit!
As always, there's a chance you'll incur customs charges but I would think you'd be safe with something of this value.
(Expiry: Unknown)