Nokia Coloud Bang Wired Speaker Was $25 | Now $13 & Free Shipping @ Microsoft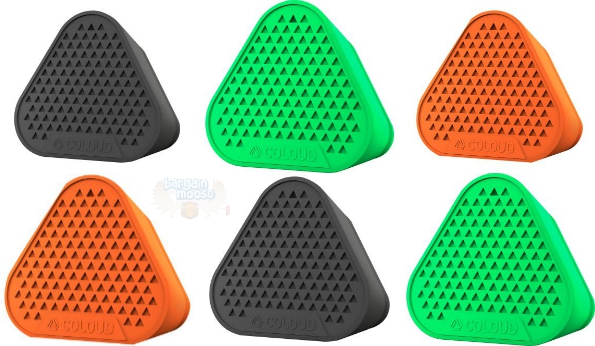 This may be my favourite deal of the day! Microsoft Canada had discounted the Nokia Coloud Bang Wired Speaker MD-1C from $24.99 down to $12.99 each with free shipping. Choose from orange, green, or black - they are all still in stock.
The beauty of these little speakers is their ability to daisy-chain together: this means you can connect two or three or four speakers together and have them all blasting what you have on your iPod or smartphone at the time. This is a really cool feature that is usually seen in wired speakers that cost a lot more than this!
This is a simple, small, and lightweight wired speaker. It is considered wired because you need to plug the cable into the aux (headphone) jack on your phone. However, no external power is needed as these are rechargeable speakers. You can get up to eight hours of playback time on one charge. They are only 2" x 2.9" in size so they are fantastic for travel. Stick one in your backpack, your purse, or your pocket for sound on the go.
One reviewer said:
I bought this a week ago, and I have to admit that it is certainly one of the best purchases I've made. The sound is superb at this price point, highs, lows, treble and bass are all perfectly balanced. The design is super cute and attractive.
I adore how small these little speakers are compared to many. Since I take my cell phone with me almost everywhere, the fact that these need to be plugged into the phone does not bother me. I would stick one of these handy little units in the bathroom, in the bedroom, and in my car. Perhaps I might just drop one in my purse so I have one with me when I am out.
These are wicked cool little sound units for a great price. I would buy all three colours and stick them in your family's stockings. These are the perfect size and a great price for stocking stuffers. As only $13 a pop with free shipping, I don't think you can do better for a brand-name quality made mini speaker.
(Expiry: Unknown)