NCIX.com: Silicon Power 32GB USB 3.0 Flash Drive Only $12 & Free Shipping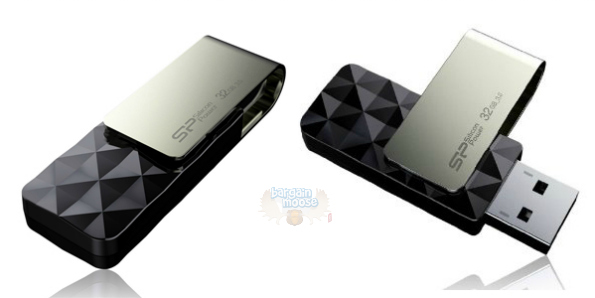 NCIX.com has an excellent deal on the Silicon Power 32GB Blaze B30 USB 3.0 Swivel Flash Drive. Originally $19.99, the 32GB flash drive is now discounted to $11.99 with free shipping.
This is one of the best prices we have seen for a 32GB flash drive. Checking back in the Bargainmoose archives, I found other 32GB flash drives on sale for $14.99. I decided to price compare this specific brand, Silicon Power, and this specific model, B30, in the 32GB size with 3.0 speed.
Tiger Direct had the next closest price at $14.99 but you would also have to pay for shipping. Amazon Canada came in next at $23.34 and Canada Computers charges $24.99. Neither of these two companies have free shipping on just the flash drive either.
While there are no reviews on NCIX.com, there are on other websites. On Amazon, the flash drive has a 4.5/5 star rating with 72 reviews. I have to say, that is awesome! I also found a very detailed review on TigerDirect from a customer giving the device 5/5 stars. Here is part of the review:
I tested the read and write speeds using the black magic app on the mac app store, the speeds where very impressive for a flash drive, i was getting around 80 - 90 MBs Read and around 35 MBs write. I would like to point out that i have another memory stick from another brand and this product is around double the speed. Overall this is an excellent memory stick that really cannot be faulted for the price.
This is very good news for people who care about their read and write speeds. The faster your speeds, the faster data transfers to and from your flash drive. This little number not only looks good (love the diamond textured look), it can read up to 90 MBPS and write up to 40 MBPS.
The flash drive has the newest 3.0 speed (some flash drives still come in 2.0) and is compatible with Windows, Linux, and Mac operating systems. Overall, for $12 with free shipping you cannot do better, especially for a flash drive with such great ratings on Amazon Canada.
If you are looking for an inexpensive but useful gift for Father's Day, consider picking up a 32GB flash drive for your father. Then teach him how to use it.
You only receive free shipping when this product is in stock. if it becomes 'backordered' then you will be charged shipping.
(Expiry: 10th June 2015)