NCIX.com: Patriot FUEL Rechargeable Battery 2000 mAh Only $7 & Free Shipping *HOT* (EXPIRED)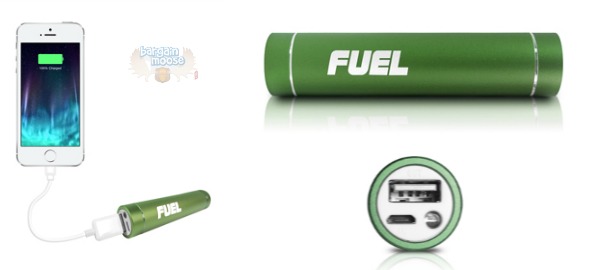 ** BUMP: This is the DEAL OF THE DAY at NCIX.com today - and thus has dropped down to $7 with free shipping - today only! **
NCIX.com has marked down the Patriot FUEL Active Mobile Rechargeable Battery 2000 mAh With 3 Stage LED Flashlight from $24.99 to $7.99 $7 with free shipping.
This is a seriously hot deal. I have never seen one of these 2000 mAh battery chargers for so cheap. I price compared this exact unit with other sellers The Patriot FUEL rechargeable battery retails for:
$17.99 + $7.34 shipping @ Newegg Canada
$16.99 + $598 shipping @ Amazon Canada
$22.49 + shipping @ Tiger Direct Canada
I could not resist price comparing this unit with the Anker version (as I am a big fan of Anker). They sell a 3200 mAh model for $19.99. RavPower has a 3200 model for $17.99. However, neither device comes with free shipping. You are also paying over twice the price for just over 1.5 times the power.
This deal is only available for the Forest Green colour. All other colours are still at full price - $24.99 - so you want to pick up the green. I prefer my battery charger to be a bright colour so it is easier to find in my bag. The first green is okay in my books.

Now, 2000 mAh may not seem like a lot of power, but it will certainly save your phone when you have miscalculated the battery life or forgot to put it on the charger. Just today, a friend of mine forgot to charge their battery overnight and they had to go to work in the morning. A small battery like this would fit in his pocket or work bag no problem. In fact, he could just keep this one at work or in the car so he always has a battery on him. I would pick up two so one can be left in the car and the other could be left at work.
This is a very hot deal and is bound to sell out quickly. Last time I posted a deal like this, we found out that out of stock items no longer qualify for free shipping. Make sure to pick this battery charger up before it goes out of stock as the free shipping really makes this deal amazing. Let me know how many you buy!
(Expiry: unknown)