NCIX.com: ADATA 64GB 3.0 Flash Drive Only $22 & Free Shipping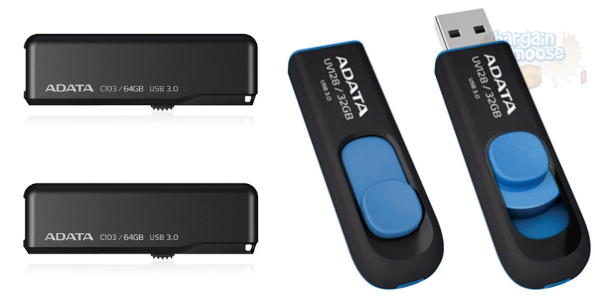 NCIX.com had discounted the ADATA C103 64GB USB 3 flash drive from $29.99 down to $21.99 with free shipping. If you just need an inexpensive 3.0 USB drive with plenty of storage, then this ADATA is the perfect drive for you.
This flash drive offers 90MB/S read speed and 40MB/S write speed. It is a 3.0, which is generally back compatible with 2.0 USB ports. 3.0 is faster overall, thus I suggest plugging this USB stick into your computer's 3.0 port. Most computers (these days) come with two 2.0 ports and one 3.0 port. The 3.0 port is better for backing up your computer and exporting data.
I price compared this exact drive with a few other stores. Canada Computers sells the ADATA C103 64GB flash drive for $34.99 plus shipping. Best Direct Canada sells this drive for $29.99 plus shipping. Newegg Canada is completely out of stock (and does not name a price). The 8GB version costs $18.67 on Amazon Canada.
Now, reviews are polar opposites - and there are only two of them - so they are not much use. Newegg had one positive review (5/5) and other sites do not seem to have many reviews for this device at all. I do know that this is a very cheap price for a 64GB flash drive. The last 64GB flash drive I posted was $24.99 plus shipping. With this deal, you save an extra couple of dollars and receive free shipping.
If you are like me, then you cannot fathom needing 64GB worth of space. What am I going to do, transfer 1k pictures to the device? At most, I would transfer a couple hundred. For a smaller flash drive at a great price purchase the ADATA 32GB USB 3 Flash Drive that is on sale from $19.99 down to $11.99 with free shipping. This little flash drive (well, 32GB is hardly little) has plenty of great reviews including this one:
Nice 3.0 usb with 3.0 speeds. I really like what adata provides with there usb drives; lifetime warranty, special software, speed. It even has a key chain loop on it. It also doesn't feel like a cheap product. Would buy again if I needed more
According to reviewers, your flash drive will qualify for ADATA's lifetime warranty if you register the drive with them. That sounds like a superb benefit and is certainly worth doing.
(Expiry: 28th April 2015)