My Little Pony Equestria Girls 2-Pack Only $17 @ Walmart.ca (EXPIRED)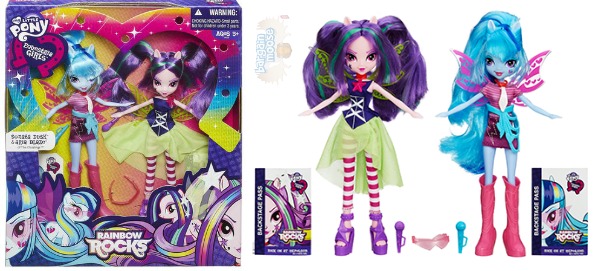 Walmart Canada is selling this sweet two-pack of My Little Pony Equestria Girls with Rainbow Rocks Sonata Dusk and Aria Blaze Dolls. Originally $34.94, the dolls are now on sale for $17 with free shipping.
I like this deal for two reasons. First of all, this is a two-pack so it includes two girls instead of just one. When price comparing single girls as opposed to a two-pack, the cheapest in stock dolls I could find at Walmart.ca cost $14.94 each. I found some clearance dolls (already out of stock) that were $10 each. Even so, this double pack costs $17, which works out to $8.50 per doll. That is the best value I can find for your money.
I could not find this actual pack at very many places in Canada, but it costs $39.99 at Toys R Us Canada. I also found it listed for $29.99 US suggested retail price at Hasbro.
The dolls include microphones, cute outfits, and accessories. They have really cute wings and pony ears as well. I used to have a My Little Pony when I was a child, she was a blue one with wings and had rainbow hair. I wish I still had my old pony. However, they never had girls based on the ponies like this when I was a child. These are super cute.
These dolls are for children ages 5 and up. I also assume there are adults out there collecting these dolls as they are fairly well made and there is a huge My Little Pony following. I am more of a Monster High doll person myself, but if these are your thing then this is a great price.
Here is one of the reviews left by a pleased parent:
I have bought this as a gift for my daughter's birthday in February. I am sure she will love it as she received the Adagio Dazzle doll (sold separately, that goes with these dolls) for Christmas.
It is a very good idea to get multiple dolls in the same line for playing. I want to get a few more dolls in the Monster High line I have just dabbled in so I can exchange their clothes and have some fun.
(Expiry: Unknown)