Mint Canada: $20 for $20 Bugs Bunny, Superman, & FIFA Coins with NO Tax & Free Shipping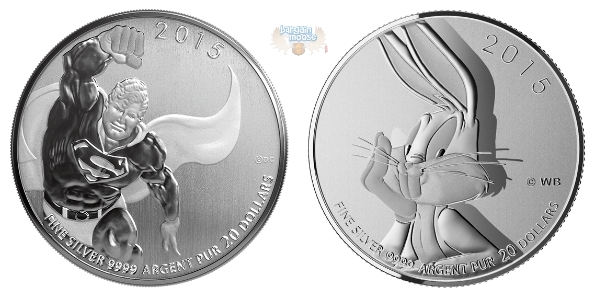 I am not a coin collector but the best coins to collect from The Mint are their $20 for $20 series, Right now they have three $20 for $20 coins that you can purchase: Superman, Bugs Bunny, and FIFA Women's World Cup Canada 2015. Each coin comes with free shipping from the Mint and has no tax.
The FIFA coin is already 79% sold out while the other coins still have plenty left in stock. The Superman coin is a pretty new released and I think it will be popular as it is the best looking coin of the bunch.
I really thing they did an amazing job with this coin. I love the way they present Superman's body and how his cape is flapping in the background. While the coin has no colour, the two-tone relief really gives depth to the Superman coin. This coin was released with a mintage of 350,000 in the USA and Canada. The coin is officially licensed by DC Comics and the perfect gift for superhero fans.
Bugs is one of the most iconic cartoon characters of all time. I used to watch re-runs as did many of my friends. The Bugs Bunny & Tweety Show is an absolute classic, and one I have wanted to collect for ages. This coin is actually sitting in my house right now as my coin-collector partner bought it. Made of 99.9% silver, this coin is well worth the expense. This would make a great gift for anyone who loves the old Bugs cartoons whether they are young or old. One reviewer said:
Well, besides the Superman collection and a few antiques - I'm not a coin collector. Yet, I grew up on "Looney Tunes" and Bugs, so I wanted at least one coin from this collection. And this one is perfect. It's a great value, so not a huge financial investment. It's visually appealing—classic Bugs.
FIFA Women's World Cup Canada 2015
I think we are covering three different fandoms today: cartoon fans, superhero fans, and sports fans. The FIFA coin is in support of the women's FIFA World Cup. The coin has a smaller mintage of only 200,000 and is 79% sold out right now. Most people love the coin and the only criticism tend to be on the presentation (not in a nice box) and the high mintage.
All three of these coins make excellent gifts and are small enough for stocking stuffers.
(Expiry: Unknown)