Mint.ca: Free Shipping & No Tax on Sir John A. Macdonald Coin Pack (2015)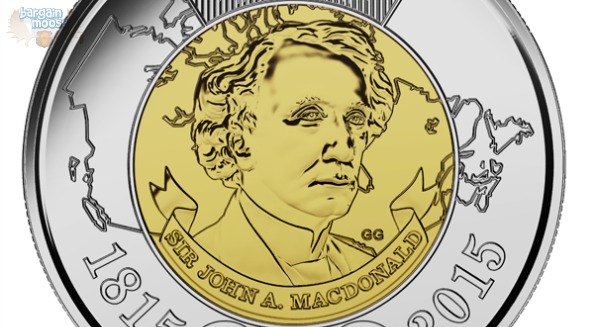 The Mint.ca is not known for their deals so anytime I see something that remotely looks like a deal, I pound on it. The Canadian Mint has released a five-pack of Sir John A. Macdonald $2 coins. You will pay face value for the coins - only $10 ($2 x 5 = $10), pay no tax, and receive free shipping on your order.
I think this is a pretty special offer as very few special coins are offered at face value. We have had a few quarter deals like this, but this is the first time I have seen a $2 coin deal.
Now, what is this all about? Well, in 2017 Canada will be celebrating 150 years of being a nation. That is exciting stuff, eh? While we are two years away from that venerable celebration, this year marks the 200th anniversary of the birth of Canada's first Prime Minister: Sir John A. Macdonald.
There is a limit of one coin pack per customer. As they qualify for free shipping, this is not a problem in my view. You will receive five commemorative $2 coins with free shipping and no tax. I like that you get five coins so you can give your duplicates away to family and friends if you want. These could also make great stocking-stuffers for next Christmas.
This coin pack is available for sale in Canada only. As some of you may know, the Canadian Mint produces coins for countries around the world as well as our own country. This coin pack is exclusive to Canadians only. If you do not want it in a few years, you could always sell it to coin collectors in other countries via eBay or whatnot. These are also not available in store.
I will probably pick up one of these sets for my partner, as he collects coins and has purchased the previous quarter packs that were released like this. As you are only paying face value, there is no need to keep these as collector's coins. You can always spend them just like regular currency if you find you do not want them after a bit.
Quantities are limited.
(Expiry: Unknown)