Microsoft Store: Up to 49% Off Nokia Lumia Accessory Bundles - Now $45 & Free Shipping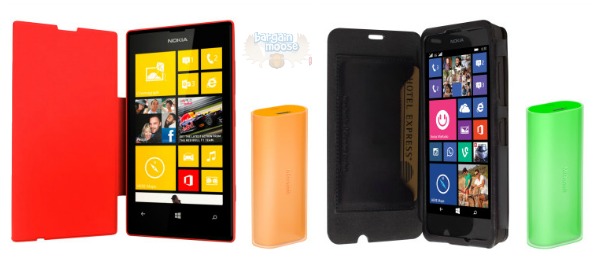 If you scored a sale Nokia Lumia approximately a month ago, then you will want to purchase the Nokia Lumia Accessory Value Bundle for up to 49% off regular price. Choose an accessories pack for four different Nokia Lumia models. All orders receive free shipping.
Each bundle includes a case or cover, and a Portable Universal USB Charger. The first accessory keeps your Lumia protected from drops, spills, and those every day events that challenge the longevity of our electronics. The second accessory keeps your Lumia alive longer.
There are four different bundles, and each has a different potential savings:
Nokia Lumia 520 Accessory Value Bundle - Save up to $38
Nokia Lumia 635 Accessory Value Bundle - Save up to $43
Nokia Lumia 830 Accessory Value Bundle - Save up to $41
Nokia Lumia 1020 Accessory Value Bundle - Save up to $38
I like highest potential savings, so I chose the bundle for the 635 to try out. When you go to customize your bundle, the cases (and covers) will be presented first and then, under those, you can choose your battery pack. I chose the following two items: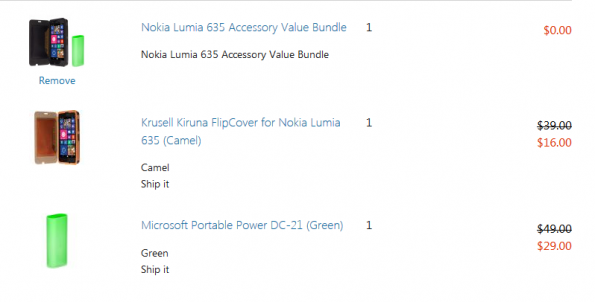 That combination (and a few other colour choices for the portable power bank) will give you the maximum discount of $43 off for this bundle. Now, the Microsoft Portable Power DC-21 currently retails for $49, so you would be foolish to buy the battery pack separately. Even if you do not need the case, it is $4 cheaper to buy the external power charger in the bundle than by itself. You could always give the case away if you do not need it. However, this deal is best when you need and will use both items.
The Microsoft Portable Power is a slim, portable 6000 mAh battery. The average phone can expect to receive two full charges off this sweet little device. I love the colour choices for the battery pack as well - orange, green, or white. There is also a different black battery charger you can choose from, but this one is worth more.
Overall, I think this is a sweetheart of a deal for anyone who owns one of these four models of Nokia Lumia devices. I hope some of our Moosers can take advantage of the savings and pick up needed accessories for their Lumia.
(Expiry: 15th March 2015)