Microsoft Canada: Yezz Billy 4.7 Unlocked Was $179 | Now $119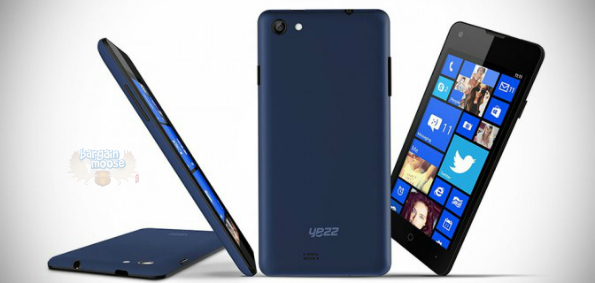 Are you looking to save money on your cell phone bill this year? As of June 3rd, you can now get out of your three-year cell phone contract for only a small admin fee and upgrade your phone and your plan. For a new phone, I suggest purchasing the Yezz Billy 4.7" unlocked cell phone that was $179 and is now $119 with free shipping.
First, this cell phone is unlocked so you may take it to any carrier that supports these phones. This means, you can negotiate the best plan per month and transfer companies at any time when a competitor comes out with a better cell plan. Here are a few carriers this phone is and is not compatible with:
Billy 4.7 is compatible with the GSM carrier Rogers, also compatible with HSPA+ carriers; including Bell, MTS, SaskTel and Telus. Phone will not work with Vidéotron, Wind, EastLink, Mobilicity or any other carrier that use AWS HSPA+ Band
You should contact your desired phone carrier before purchasing this phone.
The Yezz Billy features a huge 4.7" IPS HD display. There is a built-in 8MP camera and 8GB ROM/1GB RAM. The phone comes preloaded with Windows Phone 8.1 software. I do not have much experience with Microsoft phone software, but it would integrate very well with any Windows 8 software on your computer. One reviewer said:
This thing is smoking fast... It runs as fast as an iPhone 6! And it looks like and iPhone 6 - only slimmer and lighter... :) In terms of hardware, this is a super star. The drawbacks come with software naturally... Not all apps are available and some are made really poorly..
The plain truth of cell plans and phones is buying outright will save you money. While you may get a discount on a shiny new cell phone when you sign up for a two-year contract, the plans cost more than monthly cell bills when you bring your own phone.
I just encouraged my mother to pay outright for a smart phone - $150 - and go on a month-to-month plan. Her month-to-month plan costs $53, while the same plan on contract would have cost her $80 per month. With that savings of $27 per month, the value of her new cell phone is paid off within six-months and then she starts saving money. The Yezz Billy only costs $119, so it will easily save you money in the end.
(Expiry: Unknown)