Microsoft Canada: Wireless Mobile Mouse Was $16 | Now $10 & Free Shipping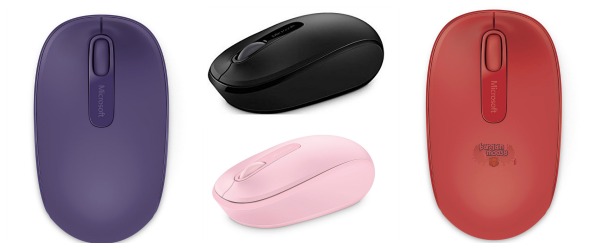 Need a cheap mouse to throw in your backpack, take to school, or use at work? Pick up the Microsoft Wireless Mobile Mouse 1850 on sale from $15.95 down to $9.99 with free shipping.
I really like this deal. Mice tend to last me a few years before the laser starts jumping or something breaks. Thus, I do not want to spend much money on a new mouse when it only lasts a few years. This mouse deal is hot, in my books, because the mouse is only $10, it comes with free shipping, and you get to choose from a bunch of colours!
Are you tired of black mice? I know that I am. Pick out your new mouse from a variety of colours:
Black
Wool Blue
Light Orchid
Flame Red
Purple
I am not a big fan of pink but the Light Orchid is a really nice colour! I would choose either it or the purple.
Now, I price compared this mouse with several other retailers. The same Microsoft Wireless Mobile Mouse 1850 costs:
$15.95 + shipping @ Amazon Canada
$12.99 + shipping @ NCIX.com
$12.99 + $7.34 shipping @ Newegg Canada
Already Microsoft gives you the bonus advantage of free shipping, so it would be rather hard to beat this deal. Honestly, at $10 I might just get two! I can save one for when the other breaks down or I could give it as a gift to one of my not so technologically inclined friends who are always breaking theirs. Do not throw your mouse at the wall when you miss out on a good deal!
This mouse is a fantastic basic unit. It connects to your computer or tablet via USB. When the small USB receiver is not in use, just store it right inside the mouse so you do not lose it. The mouse is made for right or left-handed people - so feel free to switch hands when fatigue sets in. The mouse also has a scroll wheel for easy navigation.
Pick up this mouse my dear little Moosers! I would be buying this if I had not just ordered a mouse for $16 less than a week ago. This is a better deal I must say!
(Expiry: Unknown)