Michael Kors: Saffiano Leather Pocket Case Was $48| Now $29 & Free Shipping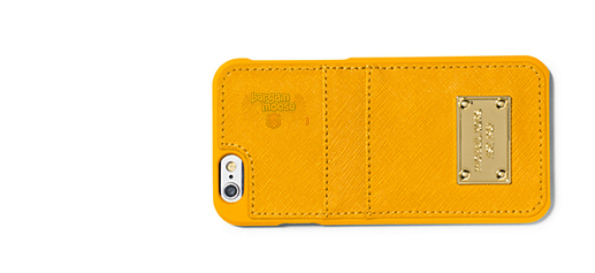 Michael Kors Canada is selling the must-have case for your new iPhone 6. The Saffiano Leather Pocket Case in 'sun' is on sale from $48 down to $28.80. All orders at Michael Kors receive free shipping and free returns.
As is to be expected with some deals, this price is only applicable on one colour of wallet: sun. This is a gorgeous golden yellow that is really flashy and will keep you from losing your iPhone!
This phone case is a structured hard shell with durable Saffiano leather sewn onto the back. You can slip your ID and credit cards into the exterior pockets. Then they will be easily accessible when you are at a club or at a bar. For girls who like to leave their purses at home when they party, just slip your ID, a bit of cash, and your credit card into the external pockets. This case turns your phone into an all-in-one unit.
Show off your stylish designer wallet with the deluxe logo plaque on the back.
Now, I actually like this colour and would buy it for my own iPhone 6 - if I owned one. However, some people are pickier in their colours. Thus, I wanted to mention a couple other options that are more expensive, but still on sale. The Saffiano Leather Pocket Case For iPhone 6 in peanut is on sale from $48 down to $36. I think of this as a mousy brown that acts as a nice neutral. Additionally, the vibrant Fuchsia is on sale from $48 down to $36. These are good options if you detest the colour of the 'sun'.
Most iPhone 6 cases retail for more than $30 without even considering shipping, thus I think this is a good deal despite it being a designer brand. Because it is a designer brand, I think it is an even better deal. That free shipping does not hurt either. With Michael Kors free returns policy, this is a risk free venture. Buy, try it out, and if you do not like the case then you can simply return it. These free return offers are pretty few and far between these days with rising shipping costs.
When price comparing, the cheapest I could find this wallet elsewhere was at Nordstroms for $32. However, you would need to pay duty and shipping on top of that.
(Expiry: unknown)