Lululemon Sale Restock & Snow Amazing Neck Warmer Only $39 (Was $98)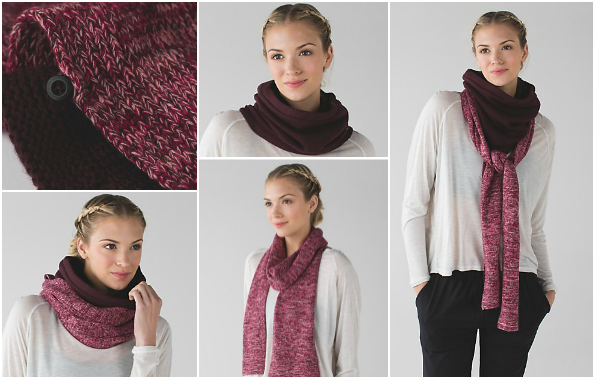 Lululemon has restocked their 'we made too much' sale section with a bunch of new things and more sizes in already discounted things. They have also added some new colours too! One of the 'new to the sale' things is this Snow Amazing Neck Warmer (Sherpa Fleece) on sale from $98 down to $39! Receive free Fedex shipping on any order.
This neck-warmer is actually two scarves in one. That is right, you get two pieces that you can wear separately OR together. That is three different looks for the price of one! The set includes a neck-warmer: it is like a small circle scarf that fits nicely around your neck. Then. you get a longer scarf that can be left hanging loose, tied in a knot, tied in a bow, or draped across your shoulders. Together, you get the coziest winter accessory ever.
I am just amazed at the quality of Lululemon's accessories and the innovation of this scarf combo. It is the one and only scarf set you will ever need. As this reviewer said:
I have dozens of scarves, neck warmer, hat wear, etc. sitting in my closet. I have an excessive amount because nothing seems to be able to do the complete job of keeping my face and neck warm simultaneously in one piece.
Finally, LL come out with this. As far as I'm concerned this is the best. I'm going to order more now that it is on sale. Thank you.
Wondering how to keep the scarf and the neck warmer together? There are buttons that hold the neck warmer to the scarf when you want to wear them together. That way, you are not constantly adjusting and retrieving the scarf. What a great winter accessory that will keep you warm and dry this winter. One reviewer said that this scarf was warm even on the coldest day of the year.
As I mentioned above - Lululemon has restocked a bunch of stuff. This Zone In Tight is back in stock in ALL sizes (between the colours) and a couple extra colours as well. Originally $128, it is $39. The Zone In Crop is a great alternative as well. originally $118, it is now $39. You can also pick up the Light As Air Thong for just $9!
I got SO lucky and they restocked my favourite hoodie in my size! It was totally sold out in size 12 but they restocked it so I finally bought myself a gorgeous ladybug hoodie. I am so stoked!
(Expiry: Unknown)