Lowes Canada: Shop-Vac Wet/Dry Only $20 Today Only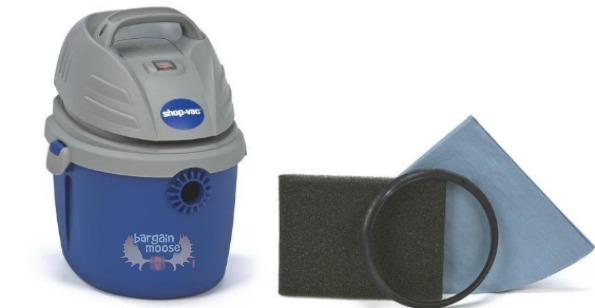 Save $20 off the regular price of $39.98 on the Shop-Vac 9L 2.5 peak HP shop vacuum at Lowes, now $19.98 today only.
I think 50% off this very handy tool is a great deal! This Shop-Vac is only 9L, but it makes it easy to take places and with a top carry handle, it is extremely portable. It also has a wall mounting bracket and all the tools store right on the machine, so you always know where the vacuum is and the tools. It can also be reversed so you can use it as a blower, a great multi-functionality for one $20 vacuum. You can blow leaves and dirt out of your garage and you can even use it to inflate things like air mattresses or your kids blow up beach toys.
We are moving soon and know we are going to have a lot of cleaning on our hands, both at the house we sold and the one we are moving into. It would be handy to have this to clean up the new house before we move in all our stuff, while keeping my regular vacuum at home to do the carpets once the furniture is gone.
The reviews for this machine are phenomenal, with an overall 4.5 star rating out of 5. It has 111 reviews, with 67 of them being five-star. Reviewers state the vacuum is handy and easily portable, making it great for the garage and the car. And although the vacuum itself is small, it is still very powerful.
Here is one review that might help make your decision to spend $20 easier:
I love my little shop vac. It''s powerful, compact, and awesome investment for my home cleaning tools. It''s very portable and great for cobwebbing, furniture cracks, register vents. I just hook a long extension chord and go, go, go.
Another perk to buying this vacuum is that it ships for free with free parcel shipping from Lowes.
(Expiry: 6th June 2014)