Lowe's Canada: 50% Off Shop-Vac Now $84.50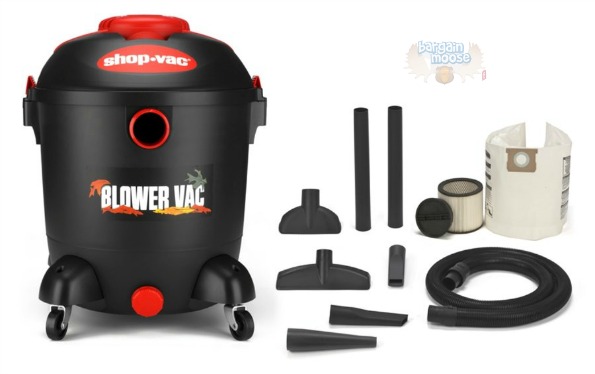 Lowe's Canada has put this Shop-Vac 45 L 6.5-Peak HP Shop Vacuum on sale for just $84.50, which is 50% off the original price of $169. You will also receive free parcel shipping.
Shop-Vacs are fantastic for anyone with a garage, shop, or work shed that needs a little help being cleaned. They have powerful enough suction to clean up some of the worst messes and they can handle abuse a normal vacuum cannot. This Peak HP shop vacuum is a wet/dry unit, which means it can suck up both dry goods as well as liquids without harming the vacuum. It is designed to handle everyday garage messes, which often include fluids. This vacuum will also not require emptying all that often as it is a 45L model. It also has a 2 1/2 inch hose to pick up larger pieces of debris.
For me, I do not own a shop or a garage so, you would think, this vacuum would be rather useless. However, I own a car that I like to clean out myself instead of pay someone else to do so or shovel coins into my local car wash to use their vacuum. This Shop-Vac is perfect for cleaning the interior of a car. It can handle all the crumbs, dirt chunks, and any liquids that might have spilled. With the long, wide, and flexible cord, the shop vacuums really beat conventional vacuums for cleaning car interiors. In my experience, shop vacuums are also lighter than your usual in-home vacuum, which makes them much easy to maneuver when cleaning up.
However, this is not a simple shop vacuum: it is a 2-in-1 unit, which features a powerful yard blower to make yard cleanup a breeze (literally). The blower is detachable for easy utilization. Clean the leaves off your patio or driveway with this simple tool.
The Shop-Vac has 6.5 HP and uses a bag and cartridge filtration system. It comes with several different attachments as you can see in the image above. The vacuum also comes with a five-year warranty, which is pretty surprising given how many items are only sold with one year warranties these days.
Thankfully, this Shop-Vac will ship with parcel shipping, which is free across Canada so there are no extra fees. I think this is a great deal for a 2-in-1 wet/dry vacuum with a detachable blower.
(Expiry: 25th June 2014)