Lovable Labels: Free Friendship Sampler (40 labels) with Friendship Pack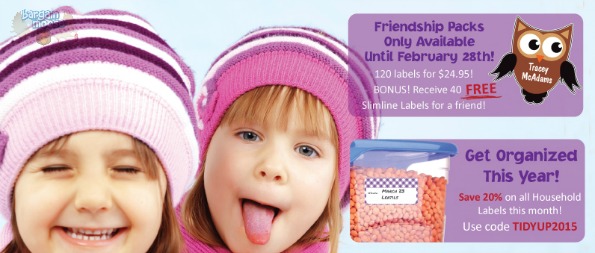 Lovable Labels is offering a free friendship sampler pack of 40 labels when you purchase the Friendship Pack for $24.95 with free shipping.
The Friendship samplers are below the friendship packs. You need to select one, fill out the child's information, and then add it to your cart with the Friendship Pack. You can see the two packs in my cart below:

Even though Lovable Labels is Canadian, for some reason it was showing US currency. Make sure to select the Canadian flag for Canadian dollars.
The Friendship Pack is full of all the labels you need to keep your child's gear sorted! The pack includes 120 labels available in six different designs. The labels are all dishwasher and microwave safe, waterproof, and UV resistant. You simply need to peel and stick them.
The 120 labels include 30 sticker labels, 80 slimline labels, and 10 fun stickies. The bonus 40 slimline sticker pack can be given to a friend or you can put your own child's name on it. That brings your total up to 160 labels for $24.95. After a little math, that works out to about 3 cents per label. This is such a great deal don't you think so? This offer does not require a coupon code; the discount will be automatically taken off at checkout.
Now, I know labels for children are all the rage but anyone with an organizational itch loves labels for their kitchen. Lovable Labels is also offering 20% off all Household Labels with coupon code TIDYUP2015. Household labels include canning labels, wire tags, craft labels, spice labels, pantry labels, and more. I tried to keep chalkboard labels on my spices but they are always rubbed off. Then it becomes a game of "which spice is this" and "what does that smudge say... is that an N?" I think sticker labels would be better options, as I tend always to buy the same spices with a few guests once or twice a year.
The same is true with pantry labels. My baking supplies always include chocolate, walnuts, flour, and three types of sugar, raisins, and more. I could just make labels for each of their Mason jars so everything stays well organized.
I hope you enjoy both of these discounts. I think the first label deal is the best, but the second one is more useful for me, personally.
(Expiry: 28th February 2015)