Little Burgundy Canada: 50% Off Sorel Winter Boots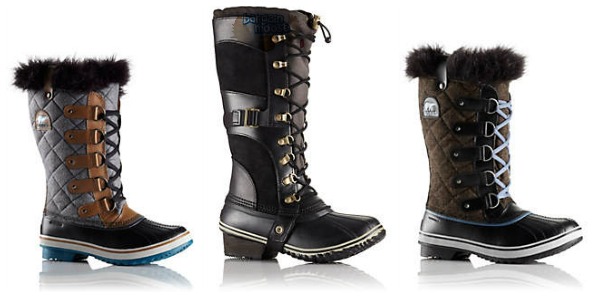 Little Burgundy has a selection of warm winter Sorel boots sale for 50% off their original retail price.
The Women's Sorel Tofino Felt Boot retails for $200 regularly, but is now on sale for $100. According to Sorel, the boot fits slightly small so you may wish to size up if you are between sizes. Sizes 5 through 7 1/2 are in stock. The boot is best for light snow. This boot retails for $150US at Sorel.
What Little Burgundy calls the Vedute, appears to be the Sorel Women's Winter Fancy Lace II Boot. In the khaki colour only, the boot is on sale from $190 down to $95. Sorel says this boot fits small and that it is best for casual winter wear and light snow. Sizes 5 through 8 are available.
Our next boot is the Women's Tofino Herringbone from Sorel. Originally $200, the boot is on sale for $100. Sizes are limited, with sizes 5, 6, and 6 1/2 represented. The boot fits slightly small like the other Tofino.
Little Burgundy is also selling a boot called the Mercatino but I cannot find out what the boot's actual name is on Sorel. This boot is fleece lined with a knit collar. It also has one of the most generous size distributions still available: 6 1/2 up to 9 1/2. Originally $150, the boot is now $75.
Here is a little note on naming. The names that Little Burgundy uses for the boots are not the actual names that Sorel gave their boots (thus, I tend to ignore them). Little Burgundy makes up names and sticks them on boots for some odd reason - something that is terribly infuriating if you are trying to find information for a specific piece of footwear. Perhaps the best example of this in the sale is what Little Burgundy calls the Reeter, which is then noted in the description to be the Conquest Carly Boot. The Conquest Carly is the real name of this boot, and where 'Reeter' came from is anyone's guess. This boot is available in sizes 5 and 6. It also appears to fit a tiny bit small. Originally $280, the boot is on sale for $140. The same boot costs $220US at Sorel's website.
The boots all tend to rang 4/5 stars on Sorel's website so they are very well thought of by customers.
Because of Little Burgundy's refusal to use the boots' real names... I had to research each boot in pretty much a 'Hail Mary' situation (Google Image search) just to find the right names and additional information.
Receive free shipping on all orders right now at Little Burgundy Canada.
(Expiry: Unknown)