LEGO Star Wars Imperial Assault Carrier Was $150 | Now $100 & Free Shipping @ Sears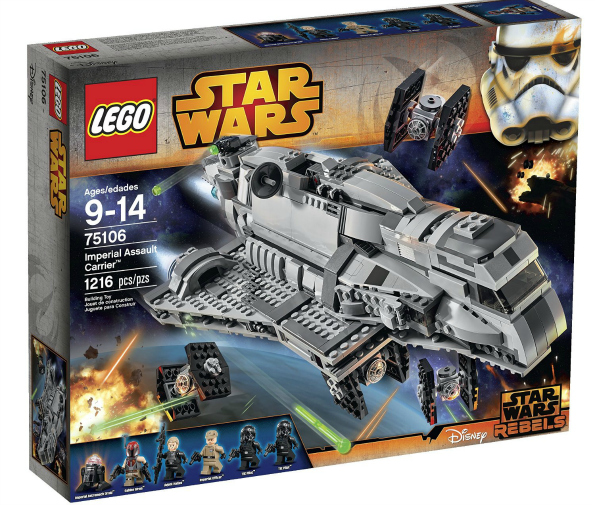 You seriously need to pounce in this sweet LEGO deal at Sears Canada. The LEGO Star Wars Imperial Assault Carrier is currently on sale from $149.99 down to $119.99. After you use coupon code 941612557 - for an extra $20 – this Star Wars LEGO set comes down to $99.99. Receive free shipping on your order as well.
First, this is a huge set. The LEGO Star Wars set includes 1216-pieces of LEGO including an Imperial Assault Carrier, five mini figures, weapons, and more. The five mini figures with their assorted weapons are: Agent Kallus, Imperial Officer, Sabine Wren in Mandalorian outfit, two Pilots, and an Imperial Astromech Droid. Technically that is 'six' figures but the droid is not exactly a mini figure. Weapons for your mini figures are included: three blaster pistols, Sabine's two Mandalorian blasters, and Kallus' weapon.
The Imperial Assault Carrier has a ton of features including a lifting handle, opening cockpit with space for a minifigure, lift-off fuselage with detailed interior, missile storage bay with extra missiles, cargo box with extra ammo, twin spring-loaded shooters, rotating gun turret with dual stud blaster gun, and 4 mini-scale TIE Fighters with release function.
This is the cheapest you will find this set anywhere, even before the coupon code. This LEGO set currently costs:
$149.95 @ Chapters Indigo
$149.99 @ Best Buy Canada
$149.86 @ Walmart Canada
$149.99 @ Toys R Us Canada
$149.86 @ Amazon Canada
$149.99 @ LEGO Store
This is one of the reasons why this is a really great deal on Star Wars LEGO - everyone else sells it for full price! I would hop on this deal quickly.
One reviewer stated these as his favourite features:
Tie fighters are surprisingly cool and tons of fun Sabine and her helmet and Agent Kallus figures are great! The imperial assault carrier itself is a pleasure to look at and an even more pleasure to build.
While some people complain about this not being one of the 'iconic' Star Wars vehicles, a lot of people are having a great time building this set and playing with it. At over 1200 pieces of Star Wars themed LEGO for $100, you are getting your money's worth out of this set.
(Expiry: unknown)