LEGO Minecraft: The Ender Dragon Now $69.97 & Free Shipping @ Amazon.ca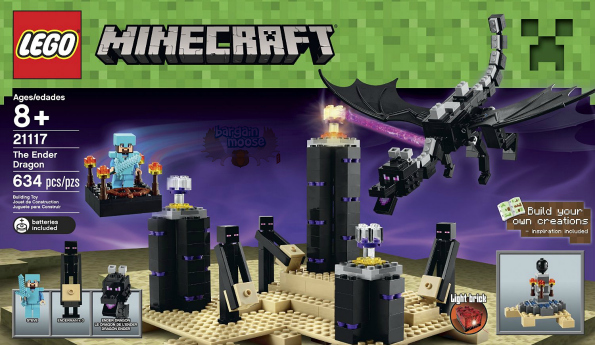 We just love LEGO here at Bargainmoose! A giant LEGO collection is every child's dream and the secret dream of a few adults too. Today's deal is a double-header as it combines two hot names in kids' toys these days: LEGO and Minecraft. This LEGO Minecraft The Ender Dragon set is on sale from $89.99 down to $69.97 at Amazon Canada. Receive free shipping on your purchase as well.
LEGO is extremely popular, and Minecraft is doubly so right now! A friend of mine has a nine-year old boy that is just obsessed with all things Minecraft!
This is a large set including a Steve minifigure, three Endermen, and a variety of weapons including a sword and bow with armour and a helmet. The collection features a sand island, the glorious Ender Dragon, a dragon egg, obsidian pillar elements, and light-brick Ender crystals. In total, this set includes 634 assorted pieces of LEGO.
I price compared this set with other online retailers. Here is the going rate for LEGO Minecraft The Ender Dragon:
$89.99 @ Best Buy Canada
$89.95 @ Chapters Indigo Canada
$89.86 @ Walmart Canada
$89.99 @ Lego Canada
Only one other website has this LEGO set on for the sale price, and that is ToysRUs Canada. However, they have a limit of three sets per person. I figured that I would blog this from Amazon as Amazon has a lower free shipping minimum and does not set a limit on how many sets you can buy. Also, Amazon often lets you order even if a product goes out of stock.
One reviewer on Lego's website said:
I am a huge Minecraft fan, and this set fit my needs. As a player, I know lots of aspects of the End were hard for the designers, and I say to that, WOW! Lego, I am proud of your designers. Give 'em a cookie cake and say iBrickGamez sent you! They deserve it! Congrats!
This set is really impressing the Minecraft fans. I have seen a few more 'negative' reviews, but those are primarily from people who find the set too expensive. Well, this is your chance to score this gorgeous LEGO Minecraft Dragon set for less - just over $20 less than retail price. For a 634- piece set, I think this is a fair deal.
(Expiry: Unknown)