Keurig 2.0 K200 Brewer Was $119.99 | Now $99.99 & Free Shipping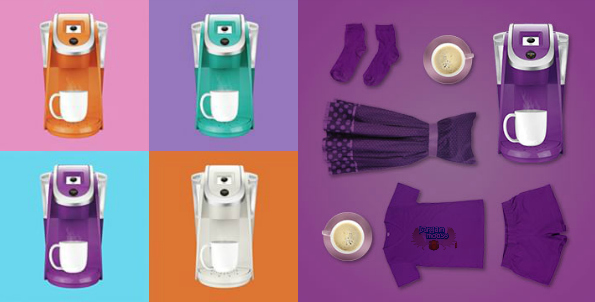 The Keurig 2.0 K200 is just being released, and Keurig has a promotional discount on the brewer right now. In honour of its release, the Keurig 2.0 K200 brewer is on sale from $119.99 down to $99.99. As Keurig Canada offers free shipping on orders of $45 or more, your new brewer will ship for free.
This is a limited time offer specific to the launch of this product. I price compared with a few online retailers from Canada and the USA to make sure this is a good deal. I found the brewer at Target.com for $109.99 to $119.99 USD. In Canada, I found the brewer sold out at Walmart (was $98.99) and in stock at Staples Canada for $119.99. While Walmart's price was a tad cheaper... they only had three colour options and they sold out super fast. In fact, most places just stock the red, white, and black colours.
I really love the new colours of the Keurig 2.0 K200. You can feel like you have a customer brewer when you choose one of these seven colours:
Black
White
Strawberry
Sandy Pearl
Violate
Turquoise
Orange Zest
The turquoise colour is so unusual that I want it! I have never seen any other appliances in that colour before. My kitchen is already a rainbow of colours with a pink toaster, purple stand mixer, red blender, and teal cookware.
Now for the details. This brewer has quite brew technology to keep your early mornings quiet. The Keurig 2.0 K200 system is extreamely compact, and yet it still has a 40 oz (5 cup) reservoir for water. It also includes nine brewing sizes like 4oz, 6oz, 8 oz, and 10 oz. I wonder if there is a 16 oz setting for big cups of hot chocolate. Speaking of hot chocolate, there is a separate setting for it and other specialty beverages. For coffee, there is a strength control.
If you are looking for a new brewing system, this is the way to go. The compact form sits well on counter tops and even desks in dorm rooms. The multiple colour options personalize this brewer to your personality. Black for sophisticated (and blends in with anything) orange zest for the wild child. At $20 off and with free shipping, it is a deal worthy of thought.
(Expiry: 8th June 2015)