Hunter Canada: Women's Original Moustache Slides Were $80 | Now $54 & Free Shipping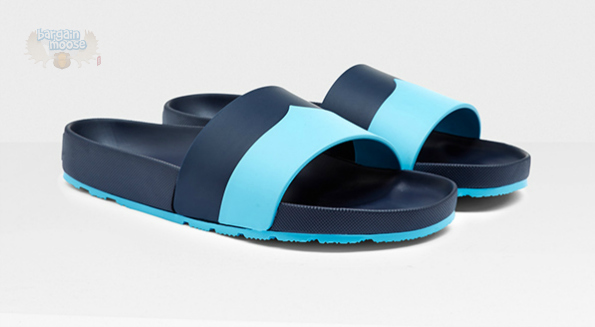 I have been looking for the perfect summer slip on. While I usually live in black leather boots and shoes, the summer heat keeps me from wanting to hide my feet. Hunter Canada had dumped a fresh supply of goodies into their clearance section, including these Women's Original Contrast Moustache Slides for summer. Originally $80, the sandals are on sale for $54 with free shipping.
There are three different colour combinations to choose from:
dark malachite / tourmaline

bright navy /sky blue

damson / bright watermelon
I like the spectrum of colours offered and find the blue combination my favourite. The 'contrast' line really shows of Hunter's classic moustache shape that accents these slides. I love the contrast!
These are great little errand shoes. Slip them on for taking out the garbage, retrieving the mail, and mowing the lawn. Then give them a quick wash and take them to the beach. You can easily sleep in and out of them after a quick dip. If a wave accidentally scoops up your beloved sandals, that is alright. The Hunter slides are made from lightweight EVA, thus they will float for easy retrieval.
On really hot (and humid) days, I really cannot be bothered to get dressed let alone put proper shoes on for errands. I would wear these to the post office to pick up a parcel and to the grocery store for milk and eggs.
Sizes start at 5 and go up to 10. All three colours currently have an excellent range of sizes.
While I did not find these shoes many other places in Canada, I did find them sold at Hudson's Bay Canada for $80.
There is also one pair of non-contrast slides on sale. The Women's Original Moustache Slides in sky blue / bright navy are a gorgeous bright blue that mirrors the sky. Next to the blue contrast, these are my next favourite. Originally $80, they are also on sale for $54 with free shipping. Again, the size selection is quite good as this sale only started this morning.

I am a big fan of the Hunter brand and have ordered from the website once before. My gloves (what I ordered) came very quickly and the quality is exactly what I expected from Hunter: fantastic. They replaced a worn out pair of the same colour combo (different brand).
(Expiry: unknown)