Hunter Canada: Original Silicone Tote Bag Was $95 | Now $69 & Free Shipping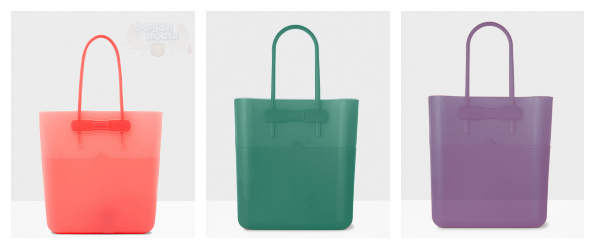 I use reusable bags all the time. I use them for carrying books, electronics, groceries, and more. Some items, like groceries, I don't mind if they get wet (unless they are in cardboard boxes). But I really do care if my books and electronics get wet. If you care too, then pick up a women's Original Silicone Tote bag from Hunter Canada. Originally $95, this bag is on sale for $69 with free shipping.
I adore these bags so much! They come in such cute colours: bright watermelon, dusty lavender, and tourmaline green. This bag is practical, colourful, and useful!
Some people might like to fold their bags down so small that they can fit in their pocket. If you like to do that with all of your bags, then this is not the bag for you. The Hunter bag is a structured tote bag. It is a molded two-part silicone bag. The material has been molded to form the shape of a Hunter moustache, that iconic Hunter symbol that is seen on all their boots.
It is hard to find this bag in Canada, but i compared to a few websites that offer free international shipping and any place I could find the bag in Canada. Here is what I found:
$81.90 @ Coggles.com
$81.90 @ All Sole Footwear
$81.90 @ MyBag.com
$95 @ Lyst Canada
$95 @ BKS Brand Name Clothing Canada
As you can see, this bag is best when bought directly from Hunter Canada.
I have only purchased once from the Hunter website, but it was an excellent experience. My product shipped very quickly and the shipping time only too a few days. In fact, my product arrived several days before the estimated delivery time given. I was quite impressed with Hunter Canada's service. With their free shipping on no minimum, I will be purchasing from them again.
I think this is a good deal because it is a quality tote bag made by the legendary Hunter Canada. In addition, this is one of the few bags they have priced under $100. When you are looking at designer goods, they just are not cheap. The next cheapest bag is the Original Clear Mini Tote Bag on sale from $225 down to $158. I do like this one because it closes at the top but that price is out of my range unlike the silicone tote above.
(Expiry: Unknown)