Great Deals On Business Cards From Moo.com!
I'm going to do a big blog post about Moo.com! I absolutely love them! They are my fave company of the month! I recently ordered the 10 free business cards from Moo, and I was very pleased with the quality of the cards. They are made from good quality card, and have a nice finish. They are very professional looking! I decided to make an order, as I wanted some nice funky business cards to give out to people about my Bargainmoose blog.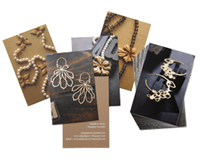 Click here to browse Moo.com.
Moo.com have recently expanded into the States, and they ship to Canada. They sell loads of stationery, from business cards to birthday cards! The moo.com site is uber-easy to use and navigate.
It's really easy to select multiple images to upload from your computer, and just wait while Moo does all the hard work. You can even upload images from your facebook or flickr account, but I didn't go down that route.
How to save extra money @ Moo.com:
There are a number of coupon codes which will currently get you some sort of discount form Moo.com.
Coupon

Code: CYN4HU

Discount

: Free Shipping on a $20 spend

Expires

: 6th May 2009
Promo Code

:

WDWT5A

Discount

: 20% off mini-cards (New customers only)

Expires

: Unknown
Here are a few photos of the business cards which I received in the mail today:



Don't they look pretty cool! Sorry about the image quality, I just used my camera phone. Click on each image to see a bigger one too.

Here's how I made my business cards:
I created a list of keywords that I wanted to picture on my business cards.

I went to Wordle.net, and pasted in my keyword list.
I clicked randomize 50 times, screenshoting each time & paste into photoshop.

I saved the 50 different images to my PC

I uploaded them to Moo, ordered 200 cards, meaning each image was used about 4 times
The main thing I like about Moo.com is the fact that you can order up to 50 different images for each batch of business cards. It means all your cards can be different, and they're great to hand out.
I've heard of different ideas for using Moo.com too. For example, you might customize the mini-cards and use them as Christmas present tags!
P.S. A possible 9.75% cashback from Dealguild Canada too.