Garage Canada: Dresses For $15 & Free Shipping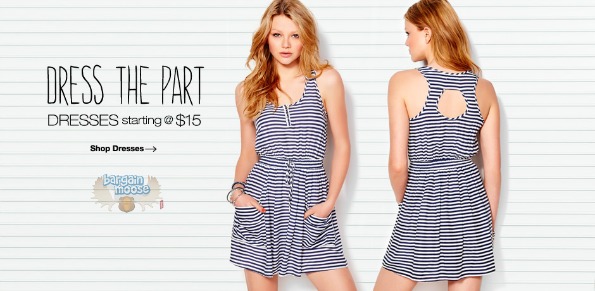 Get dresses for only $15 plus free shipping at Garage Canada.
With dresses being only $15, you could buy one for each day of the week. Either way, if you only buy one, you'll still get free shipping and not have to get up to a threshold to save the cost of shipping. I love free shipping, especially on very affordable deals like this!
This racerback rib dress is perfect for layering, with its contoured look and lean fit. Was $29.90, now $15.
This striped tube dress is great for a casual day, although I'd love it for a look at the boat. Was $26.90, now $15.
This ruffle tube dress is a little bit more modest than the above dresses and dressy enough for a more formal occasion, but casual enough for everyday. I also love the jungle teal colour. Was $24.90, now $15.
This smocked tube dress is the perfect go-to dress when you aren't sure what to wear. I love the flowy skirt. Was $26.90, now $15.
(Expiry: 7th July 2013)