Free Shipping Deals & Coupons This Weekend!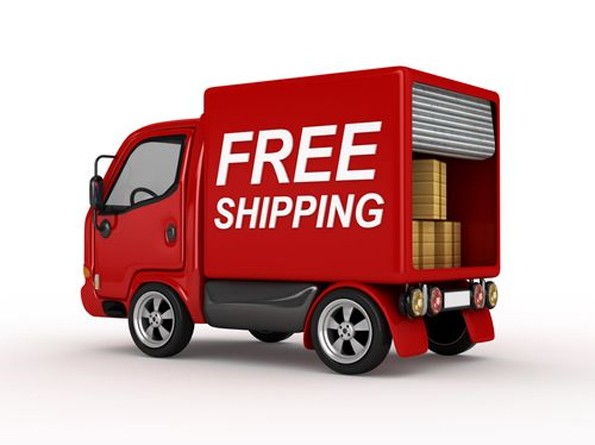 While on my daily internet travels, I noticed that a number of stores are offering free shipping at the moment – stores which usually have a threshold to get free shipping to your home. I thought I'd pull them together in a roundup for you, so you can see if there's anything you'd like to buy. We probably wouldn't do a blog post for each of these individual deals as they may not be quite "hot" enough for that, but it's nice to see them in a breakdown like this.
Off we go!
Foxy Originals – Get free shipping on ANY order with coupon code ship2me (expiry unknown). Shipping would usually cost you $8 on orders less than $75. This is a good time to buy a low-value item and not worry about shipping. There are even a couple of necklaces in their sale section discounted by 30% on which this free shipping coupon also applies. Make your order up to $50 or more and you will also get a free pair of gold starburst earrings.
Garage Clothing – While Garage Clothing usually has free shipping on a $60 spend, it's free shipping no minimum for a limited time, just now. There are also a few active coupon codes here on our coupon forums. Don't forget to hit up the sale section to maximise your savings!
Dynamite Clothing – Sister site to Garage, Dynamite also has a free shipping offer on the go, for a limited time. Again, don't forget to check out coupon page here for an extra discount of up to 15% off, as well as browsing their sale section for the best bargains. Right now, they have a section of $5, $10 and $15 deals.
Teavana – Though they ship from the US, you can use coupon code SUNSHINE (expires 29th July 2015) to get totally free shipping on your order from Teavana.com. Shipping would cost you $5.75 under normal circumstances. It's a good opportunity to buy some cheap tea! Check out both the Teavana sale and web specials pages. One current offer is this Blue Infusion Tea Pitcher for only $13.97!
Hush Puppies – Kristy mentioned a coupon code here a few days ago, but it's worth re-iterating as it is a good one. Simply use the promo code EXTRA50 (expires 31st July 2015) on any items in the Hush Puppies outlet sale online, and you'll get it for half price as well as free shipping thrown in for good measure.
Puma – Currently offering free shipping site-wide, Puma are also offering an additional 20% off sale items here. The sale items are already discounted by up to 50%, so the 20% off and free shipping is just another sweetener on the deal. Usually, you have to spend a $149 minimum to get free shipping!
The Children's Place – Just now, The Children's Place is offering free shipping site-wide – it's usually an $8 flat rate charge! On top of that, you can save between 50% and 70% off the entire site – this makes for some excellent potential on kid's clothing items.
(Expiry: various dates as stated above)