Fisher-Price Little People Big Animal Zoo Was $50 | Now $30 & Free Shipping @ Amazon.ca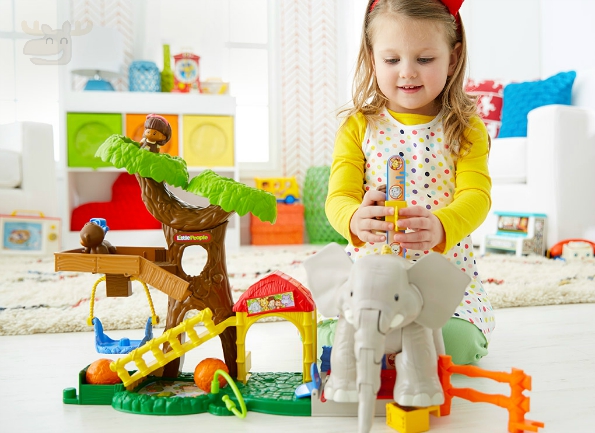 Amazon Canada has discounted the Fisher-Price Little People Big Animal Zoo from $49.99 down to $29.99. As this set of toys is over $25, you will also receive free shipping on the set. As this toy ships in two to five weeks, it is the perfect gift to pick up for Christmas as it will arrive sometime mid-October to early November.
I price compared the Fisher-Price Little People Big Animal Zoo with other online retailers. The same toy set is on sale for $34.97 @ Toys R Us, and is the full price of $49.99 @ Sears Canada. In the USA I found the same set usually retailing for $39.99 USD so our Canadian price at Amazon is far better than the US price before conversion rates.
There is so much to do with this set. First of all, it comes with a large elephant that has articulated movement. This interactive elephant has three activation points for music and sounds. The set also includes the zoo playset, zookeeper, Mia, monkey, two food pieces, and a fence connector. The elephant is BIG but the monkey is done in the classic Little People scale.
There is so much to do with this playset. You can measure the height of each creature with the measuring stick. The monkey can be rocked back and forth on a teeter-totter tree top. There is a tip platform that sends food (in the shape of balls) rolling into the feed bin. There are attached tools for cleaning, measuring, and weighing the animals.
Honestly, the more animals you have the more fun this set is to play with. I have seen five-packs of animals at Walmart Canada for just under $13 and there is even a nine-pack at Amazon for just under $23. Those are barn animals, but I am sure you can find packs of Zoo animals to add to this set for a truly great playing experience.
As per usual with Amazon deals, I have no idea when this deal will end.
(Expiry: Unknown)