FeetFirstShoes Coupon Code – 15% Discount Online!
This coupon code is for use online @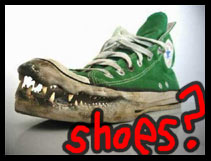 Promo Code

:

JAN09FS
Discount:FREE SHIPPING
Expires: 31st January 2009
Regular shipping is only $5, so it saves you that at least! There doesn't appear to be a minimum spend, plus it works on sale items too.
If you're a lady and you only have 39 pairs of shoes in your wardrobe… that's just not enough. You need more. Now. Buy more shoes.
If you're a guy, and that one pair of shoes is wearing out… time for a new pair!
If you're neither of the above, well, I just don't know what to recommend.
If you're a horse, you don't need to buy shoes. And you shouldn't really be shopping online either, hooves and keyboards are such a difficult combination, aren't they?
If you're a 3 legged alien, you really should be shoe shopping on your home world, and not here on Earth. Shoes come in pairs here, not in threes.