eBay Canada: 57% Off Incipio Bombproof Rugged Grenade Case for iPhone 4 $12.99 + Free Shipping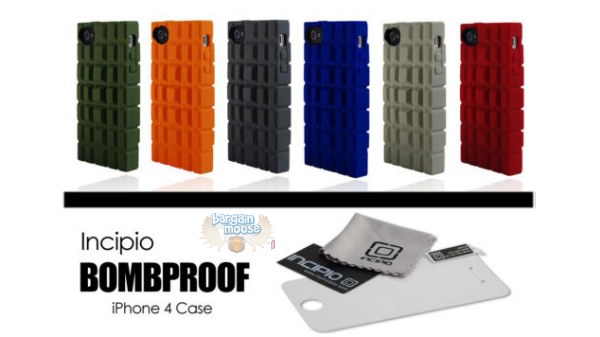 If your iPhone needs protection for your children, your spouse, or even yourself: check out this Incipico Bombproof Rugged Grenade Case. Designed for the iPhone 4 this case is designed to take hard knocks, bumps and thumbs... and keep your beloved phone in one piece.. safe and sound. On sale from a Canadian distributor at eBay Canada you can get this useful case for 57% off - only $12.99 (+ tax) with free shipping.
It may not be the prettiest thing to look at (I think) but it could be very useful. It does come in 6 colours to suit your fancy and is recommended for busy moms and construction workers.
Some details:
Brand New Incipio Bombproof Silicone Case
Includes a screen protector, cleaning cloth & applicator card
Retains full access to all ports & buttons on the iPhone 4
Elevated ridges resembling a grenade, for all-encompassing high impact protection
Raised silicone buttons allow you to adjust the volume easily
Anti-static coating prevents silicone from becoming sticky
Fits all iPhone 4 models (Verizon, AT&T etc)
I think they should make this for all phones. I have already had to help my Dad find a replacement phone because he rolled on his, dropped it a few dozen times, cracked the screen.. then got water in the crack.. etc. He is a carpenter so something like this would just be a lifesaver. But I just don't trust him with an iPhone! lol
Ships from Canada. :-)