eBay Canada: 2-Pack USB Car Chargers - $4.99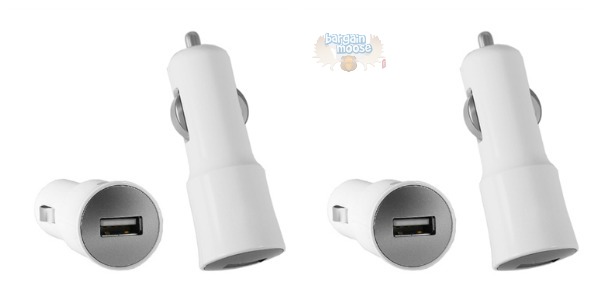 There is one electronic accessory I have not got my hands on yet: a way to charge my usb dependant electronics on the go. Enter eBay: there is a deal on right now for a 2-pack of USB car chargers for only $4.99, with free shipping!
I like to listen to my own music on road trips, but iPad batteries only last so many hours. This charger makes it easy to plug in and charge while on the go.
About:
The Universal USB Car Charger conveniently plugs into your car's 12-24 Volt DC auxillary port for a rapid battery charge, keeping your cell phone battery in top operating condition. The Universal USB Car Charger is compatible with any device that charges via USB.
Note: a USB cord is not included. Use your own. The product ships from the US, but there will be no duty unless you order of $20 worth!
There are 122 still available.