Eat Your Photos With Boomf By Printing Instagrams Onto Marshmallows (+ Free Shipping!)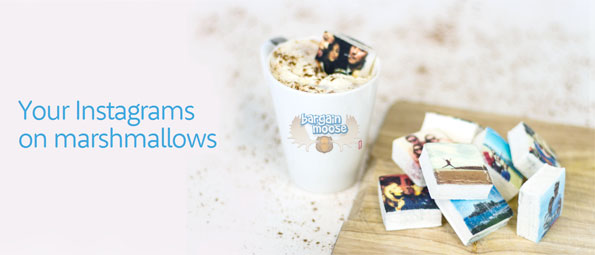 Imagine being able to eat your Instagrams... oh wait, you actually can! With Boomf, you can have your Instagrams printed directly onto marshmallows, to then be savored in however way you like them: whether in hot chocolate, smores or just on their own.
A truly unique concept as it is, their brand name is equally as perplexing until you read their FAQ section, where the answer to "why is Boomf called Boomf" is given as:
Boomf is the sound of the mallows landing on your doormat.
And though there is no "about us" or company history to learn more from, turns out that they are a part of Mint Digital, a London and NY-based company that facilitates in the selling of unique products. Some of their other ventures also include Stickygram, which turns Instagram photos into fridge magnets, phone cases, and iPad covers as well as Foldable.Me, a company that creates foldable cardboard avatars.
According to numerous reviews that have popped up online recently, these marshmallows are actually really quite delicious. The only down side is that  Boomf doesn't come very cheap: about $20 for a box of 9 square bite-sized  marshmallows (4cm x 4cm), which comes up to approximately $2.22 for each piece. They would however make for a great Christmas, birthday or even gag gift and while shipping to Canada is absolutely free, you would have to order by December 12th to get your marshmallows in time for Christmas.
The question now is, would you want to print your Instagram photos onto marshmallows?
(Expiry: Unknown)