Dynamite Canada: Up to 66% off Necklaces - Now $5 & Free Shipping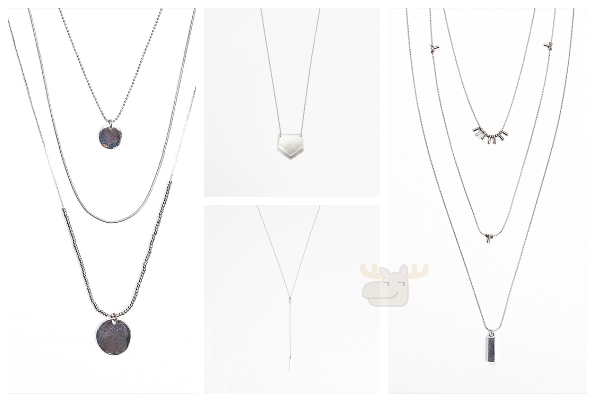 Dynamite Canada is offering up to 66% off a selection of necklaces. These necklaces were originally $12.95 to $14.95, thus the new price of just $5 is up to 66% off the original price. This deal is made sweeter with Dynamite Canada's free shipping with no minimum offer on right now. Usually, you would need to spend $50 for free shipping.
This Aztec Pendant Necklace and this Three Tier Coin Necklace are the best deals of the sale section as each necklace was $14.95 and is now on sale for $5. Whether you use these as daily accent pieces for your wardrobe or donate them to your child's costume jewellery collection... $5 per necklace with free shipping is pretty sweet.
While I like the Aztec necklace's heavier pendant, the three-tier coin necklace would be my choice as it IS three separate necklaces in one! You can wear them separately or wear them together. When you think about it, you are paying $5/3 = $1.67 per necklace with this deal!
Many of these necklaces are excellent layering pieces with other jewellery. For example, this Bar Pendant Necklace is understated simplicity. Layer it with a chunkier necklace or just leave it alone as a simple accent with jeans and a tee. Originally $12.95, this necklace is now $5.
Next, the Three Tier Necklace with Bar gives that layering affect without needing another piece of jewellery. Each necklace has a different focal point to make it feel like you have three necklaces on instead of just one. The pendants are understated geometric shapes that would look great with more casual wardrobes. Originally $12.95, the necklace is now just $5.
Lastly, the Lariat Pendant Necklace has quite the drop pendant on it. There are two focal points with a disk where the round chain connects to the drop chain and the bottom disk at the end of the single drop chain. Originally $12.95, the necklace is on sale for $5.
if you are on a budget and in the market for some new jewellery, this is a pretty great deal. I would go with the Three Tier Coin Necklace to optimize versatility and savings.
(Expiry: Unknown)