$5 Off 'Never Have I Ever' Game (Plus Free Ship!) @ Amazon.ca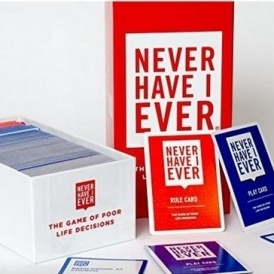 In some ways, the game "Never Have I Ever" could be named after Sheldon on the Big Bang Theory, after that one episode where they played the game.
However, this card game version of the original game is considered to be "The Game of Poor Life Decisions" (and they say there's only one real rule to the game - no judgment.)
You get 485 Never Have I Ever questions and 65 rule cards in the game. It's selling for $30, down from $34.99 and shipping is free. It's definitely worth many hours of pure fun! It should be noted this is definitely an adult game, with adult themed questions.
This game is sold by Amazon.ca Marketplace Seller INI, LLC, and the order is fulfilled by Amazon.
Obviously, this could be played as a drinking game, but it is stated:
Be warned of hangovers in the morning and take precautions for it. Don't drink and drive and have a sober friend help out or retain enough basic functions to call yourself a cab.
That being said, it can also be a game where everyone remains sober! No alcohol needed, really.
This particular card version will definitely reveal interesting things about your friends/family.
(Deal expiry: Unknown)