Disney Baby Winnie the Pooh Dreamy Stars Soother Was $53 | Now $25 & Free Shipping @ Walmart.ca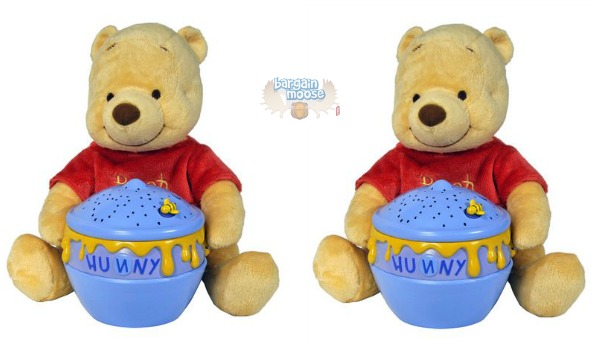 The Disney Baby Winnie the Pooh Dreamy Stars Soother was $53, but is now only $25 @ Walmart.ca. Free shipping with no minimum is included every day at Walmart.ca.
Imagine it is time for everyone in the house to drift off to dreamland. The sun has set, the house is quiet and you are rocking a sweet bundle of toddler to sleep in your arms. Sounds like a nice scene until the sweet bundle starts screaming their lungs out at 2 am. When the wee hours of the morning hit, distraction techniques are your best friend for convincing your sweet angel that is bedtime.
Check out the Disney Baby Winnie the Pooh Dreamy Stars Soother. This sweet baby, toddler and preschooler toy could be that distraction technique you need so your kid goes to sleep. The Winnie the Pooh Dreamy Stars Soother toy is designed by a well-known company, Cloud B. Cloud B is an award winning company that has made many bedtime products for young children such as the Tranquil Turtle, The Sleep Sheep and the Twinkling Firefly Frog.
The Winnie the Pooh Dreamy Stars Soother is similar to the famous Tranquil Turtle toy. With the push of a button, the Winnie The Pooh toy projects stars all over the ceiling and includes a sweet Mickey Mouse constellation as an extra bonus. My daughter has a tranquil turtle that she loves. She has spent many nights falling asleep while staring up at the stars. The Winnie the Pooh Dreamy Stars Soother switches the colour of the stars between blue and green at the push of a button. It also comes equipped with a 45-minute timer so it shuts itself off after your child falls asleep. This toy is intended to help your child ease any fears of the dark. I personally like that it gave my daughter something to focus on. I found that sometimes she needs something to fiddle with until she can relax enough to fall asleep.
I do not see this product for sale currently at any of the major retailers in Canada except Amazon.ca where it is listed for $73. A comparable product to purchase is the original Tranquil Turtle. The Tranquil Turtle will cost you $40 at Walmart. The same turtle will also cost you $40 @ Well.ca or Toys R Us.ca. $40 seems to be the base price at every major retailer right now, no matter what colour turtle you choose.
Avigayil blogged about a similar sound soother back in December, but this one has the starry night ability that the others don't.
I might just grab this item and stash it away for a baby gift. I know how much my daughter enjoyed her turtle, and this Pooh Bear would work for a girl or a boy. Shipping is free at Walmart with no minimum, making it a great time to snag this deal before it is sold out.
(Expiry: unknown)