Cuisinart 6-Quart 3-In-1 Multi Cooker Was $190 | Now $77 & Free Shipping @ Shop.ca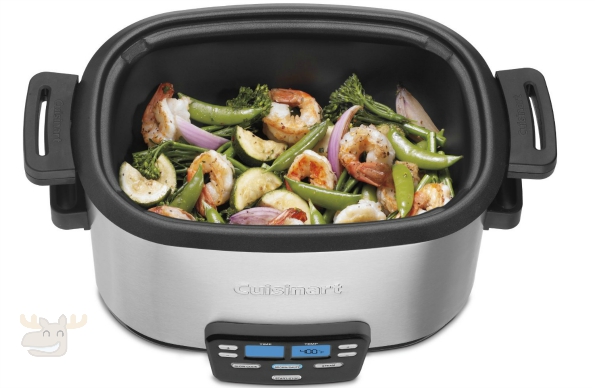 Small kitchen appliances are constantly in demand as old ones break down and new ones do more things. This Cuisinart MSC-600C 6 Quart Cook Central 3 in 1 Multi Cooker was $189.99 and is now on sale for $116.99. Apply our exclusive coupon code MOOSE40OFF100AUGUST for an extra $40 off your order, bringing this multi cooker down to just $76.99. Receive free shipping on your order across Canada.
This same multi-cooker costs $149.99 @ Staples Canada, $189.99 @ Bed Bath & Beyond, $149.95 + $19.99 shipping @ Newegg.ca, and $146.37 @ Amazon Canada. Given these price comparisons, the multi cooker at Shop.ca is nearly 50% off its nearest competitor, thus I consider this a very good deal!
This unit is a 3-in-1 cooker in that it can be used as a slow cooker, to brown/sauté food, and as a steamer. A one-touch button switches modes when a recipe calls for combination cooking: you could brown food in the multi cooker and then put it on slow cooker mode.
There is an extra-large blue backlit LCD display giving time and temperature settings. The 6-quart capacity will hold almost anything you can throw it. The removable non-stick aluminium cooking pot has a glass lid so you can see what you are cooking. It also features a cool-touch lid handle for removing the lid and testing food during the cooking process.
The removable parts (glass lid and aluminium pot) are dishwasher safe. A steaming racking is included. There is a limited three-year warranty included with the pot.
This multi cooker appears to be a hit with many families. It has a ton of reviews on Bed Bath & Beyond (76!) but I thought the review on Shop.ca captured the essence of what people are saying:
i love being able to brown meat right in the slow cooker then adding the rest of the ingredients to slow cook. It's great to have a timer and shut off and know that it will keep warm until ready to serve. Overall, this is the best slow cooker I have ever owned.
Given the great price and given that you will also receive free shipping, I really do not think you will see a better price for this Cuisinart 6-Quart 3-In-1 Multi Cooker anytime soon.
(Expiry: Unknown)